Storing wet swimming gear, be it swimming suits, wetsuits or towels, can be a hassle.
Many of us just wrap our wet swimwear in a towel and hope it doesn't soak everything else in our swimming bag. However, there is a better way to deal with wet swimwear that is affordable and takes away a lot of the hassle.
Wet bags and dry bags are the best bags to store a wet swimsuit and towel. Wet bags will keep water in the bag, stopping your wet swimsuit from soaking everything else in your bag. Dry bags keep gear dry, and because they are waterproof, they can also hold wet swimwear.
I use a medium-sized wet bag to store my wet swimming suit every morning after my swim. (View it here on Amazon). This is amazing as I no longer need to worry about my wet swimsuit soaking my dry clothes, or anything else in my swim bag.
In this article, I will explain the differences between wet and dry bags and explain the different options for storing a wet swimsuit, wetsuit, or towel covering:
How can I store wet swimming gear?
How can I store a wet wetsuit?
What Is A Wet/Dry Bag Used For?
Are there large wet bags for swimsuits?
Best waterproof bag for wet swimsuits and towels.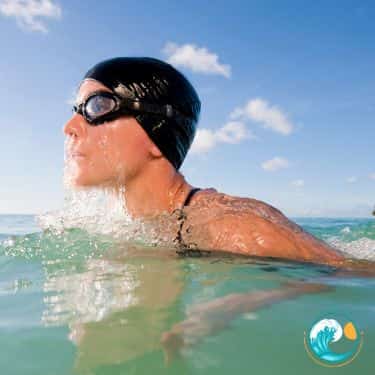 How Can I Store Wet Swimming Gear?
After your swim, be it in the pool or at the beach, dealing with your wet swimsuit and towels can be a hassle.
There are typically two options for storing wet swimming gear:


What Is A Wet Bag For Swimming?
A wet bag is designed to store wet items. Typically, the inside of the bag has a waterproof lining which keeps water in the bag and stops your wet swimwear from leaking water out.
Using a wet bag (like mine which is here on Amazon) is a wonderful way to store wet swimming gear. It is a bag with a waterproof lining that keeps water in the bag. It is a wet swimsuit bag.
If you have kids, you might be familiar with the term "wet bag" as many parents use wet bags to store soiled clothes and nappies/diapers.
Wet bags are not just for kids and parents, however; they are a wonderful way to store any wet or dirty gear, keeping the water contained within the bag.
I was curious about wet bags for swimmers and tired of my wet swimsuit soaking everything in my swim bag, so I purchased a wet bag to see what all the fuss was about.
It is now one of my favourite pieces of kit in my swim bag.
It is a lightweight and compact bag, just big enough for my swimming suit and my microfibre towel, (my microfibre towel is this one which is awesome) which stops my wet swimming suit from soaking everything in my gym bag.
Here it is:
What Is A Dry Bag?
An alternative to using a wet bag, which stores wet items, is to use a dry bag.
Dry bags are designed to keep things dry. For example, if you are outdoor swimming and would like to store your clothes on the riverbank, placing them in a dry bag is a great way to stop your dry gear from getting wet.
Because dry bags are great at keeping water out, they are also excellent at keeping water in. This makes them suitable for storing wet swimming wear and towels.
The great thing about dry bags is that you can get them in much larger sizes than wet bags. This makes them more suitable for storing large amounts of swimwear and towels, or if you are storing something large and wet, like a wetsuit.
Here is the dry bag (link to Amazon) I use which is excellent. I have the 10L size, which is just big enough for my swimsuit and large towel. If you can afford it, I would recommend going to a 20L size for a bit more room and comfort.
How Can I Store A Wet Wetsuit?
The best way to store a wet wetsuit is to use a large dry bag backpack.
Wet bags are typically not large or durable enough to store a wet wetsuit, but using a dry bag is a great option.
You can place your wetsuit in a dry bag, then toss it in the boot of your car, confident that it will not leak water everywhere. (Assuming you have a good dry bag that is sealed well!)
What Size Dry Bag Do I Need To Store A Wetsuit?
To store a wetsuit, you will need a dry bag with at least 20L capacity. This will be large enough to store most wetsuits.
The size or capacity of dry bags is measured in litres, and looking at the size will tell you how large it is.
Dry bags come in a range of sizes, for example, 2L, 5L, 10L, 20L, 50L, 90L and more.
What Can I Fit In A 10L Dry Bag?
To be happy with your dry bag purchase, it is important to pick a size that is right for you.
For example, a 10L bag is just big enough for a towel, phone, keys, swimsuit and change of light clothes such as a t-shirt and shorts.
From my experience, I have found that it is better to go for a larger size when it comes to dry bags, as you can always roll the top down to reduce the size of the bag if you find you have more space than you need.
Here is a rough guide for what you can expect to store in each size of dry bag:
| Drybag Size | What You Can Fit |
| --- | --- |
| 2L | Small items, for example, a mobile phone, keys, purse, wallets, and snack bar. |
| 5L | Small items, just more of them. For example, phone, keys, wallet, can of coke, small first aid kit. |
| 10L | Medium Size. Perfect for a small number of lightweight clothes. For example, you could fit all the small items plus a t-shirt, shorts, towel and swimsuit. Not suitable for shoes or large clothes like jumpers or trousers. |
| 20L | An excellent all-round size. Can fit all the small items, towels, change of regular clothes and water bottle. |
| 50L | This is a large dry bag. You can take all your kit, including hiking boots, a change of full clothes (not just shorts and a t-shirt), water flasks, raincoats, swim robe. |
A Guide To Drybag Sizes
Is There Large Wet Bags For Swimsuits?
From my experience, I have found it very hard to find a large wet bag for swimsuits. I certainly do not have any I can recommend with confidence.
When I say large, I mean a bag that is big enough to store your swimming suit and two extra-large beach towels.
I have found the best option is to use a medium-sized wet bag (like this one on Amazon which is the one I use) and change the bulky beach towels to compact microfibre towels. (Like these microfibre towels on Amazon, which are the ones I swim with everyday)
By doing this, you can store a wet swimsuit and two large microfibre towels in your wet bag.
Alternatively, for outdoor swimming, you check out waterproof swim bags. These are larger inflatable waterproof bags that can store items while outdoors, keeping the contents dry.
I have covered waterproof swim bags and what they are in greater detail in this article, "7 Best Waterproof Swim Bags (And why you need one)"
Best Waterproof Bag For Wet Swimsuit
I use the following wet bag every day to store my wet swimming suit and microfibre towels.
The great thing about this wet bag is that you get two included in the price, which is useful if you swim every day or are a regular pool or beach visitor.
Best Dry Proof Backpack
My favourite dry-proof backpack is The Pack Wolf Company Premium Waterproof Dry Bag (Link to Amazon)
I own the 10L version, but I recommend going slightly bigger and getting the 20L size for a bit more room. You can always fold down the 20L size if it is too big.
What I love about this dry-proof backpack is that it really is a backpack.
Unlike so many dry bags, it comes with two straps so you can wear it as a backpack on both your shoulders, which is far more comfortable. Most dry bags on the market just have one strap.
With this brand, the quality is exceptional. As well as looking fantastic, you really get a great piece of kit for your money.
Final Thoughts
Storing wet swimwear is something we all have to do as swimmers. Dry bags and wet bags make storing wet swimwear and towels so much easier.
Overall, wet bags and dry bags are essential for any swimmer who wants to keep their gear organized and protected.
These versatile bags come in a variety of sizes to accommodate any need and can be used for everything from storing wet swimsuits to keeping towels separate from other gear.
No matter what your needs are, there is a wet bag or dry bag out there that is perfect for you, which can make managing your wet swimming gear much more organised.
Happy swimming!


After Swimming Clothes
Not sure what to wear after your swim, check out this article on the best after swimming clothes.