When searching for an ideal swimming bag, we all have specific needs that must be met. For most of us, size matters the most; our swim bag should accommodate all necessary items without being too heavy or unwieldy to carry.
For me, my top priority is a swim bag that is compact. As I swim before work every morning, I am leaving the house with laptop bags, work bags and gym bags.
The Speedo Duffel Swim Bag caught my eye because of its narrow and compact size. In addition, the duffel bag's cylindrical shape, shoulder strap, and handle make this a compact bag to carry.
I have been using the Speedo Duffel Swim Bag for six months now on a daily basis and it is my favourite swim bag for two main reasons:
It is very compact, yet fits all the essentials easily.
It has a waterproof internal pocket for storing wet swimwear.
In this article I will explain what is good (and not so good) about this bag, showing how much kit fits in this bag, how big it really is and all the extra details that matter to swimmers like us.
How Big Is This Swim Bag?
The dimensions of this swimming bag are 53cm x 23cm x 26cm (length x width x height).
The really significant feature of this swim bag is that it is really compact compared to other swim bags. If you are looking for something that does not take up too much space, then this is a great option.
What Fits In This Swim Bag?
Being compact obviously means less gear can fit in this swim bag, but it does fit all the essentials.
For example, I can fit two beach towels, microfibre towels, a swimsuit, goggles, a swim hat, hand paddles, kick buoy, water bottle, and showering products with no problems.
If I need to bring my kickboard to the pool, then this will not fit comfortably in this bag alongside my pull buoy and other training aids. To get around this, I use a separate mesh bag for days when I want to bring training aids to the pool.
In conclusion, this swim bag is big enough for all the essentials. However, I would add that large fluffy towels will be difficult to fit into this bag. If you choose this bag, then opt for thinner towels or even a microfibre towel to save on space.
I reviewed the Eono Microfibre Towel in this article.
Is It Waterproof?
The material of this bag is made from a water-resistant material.
The bag itself is not waterproof. In other words, you cannot fill this bag with gear, throw it in the pool and expect the contents inside to stay dry. It is not designed to be used in the water.
But it does contain water well. Additionally, it has an internal waterproof pocket. This is a great place to store a wet swimsuit as the water will stay inside this compartment and does not leak out.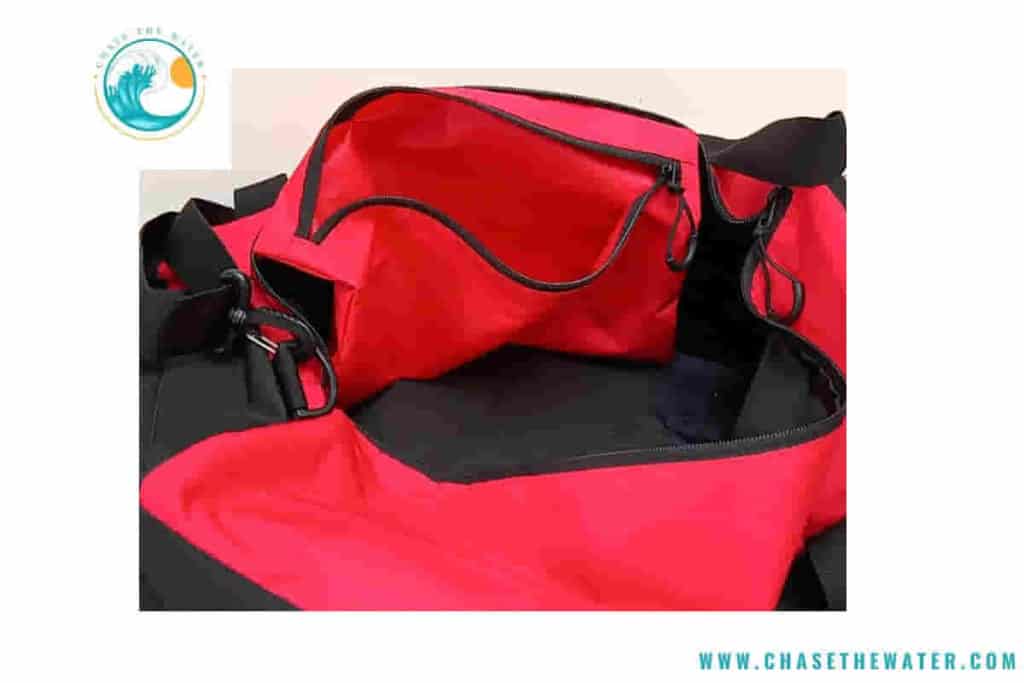 To test this, I placed my wet swimsuit into this pocket and this internal pocket contained the water and stopped my swimsuit from leaking all over my bag. This is a really great feature.
Is The Material High Quality?
The material of this swimming bag is made from a lightweight, water-resistant material. It is 100% Polyester according to the label.
I actually really love this material as it looks really good and even after six months of daily use, being chucked in and out of my car, the bag still looks like new.
The fabric has a really nice "hexagon" pattern that makes the lightweight material really strong and gives this bag a great look.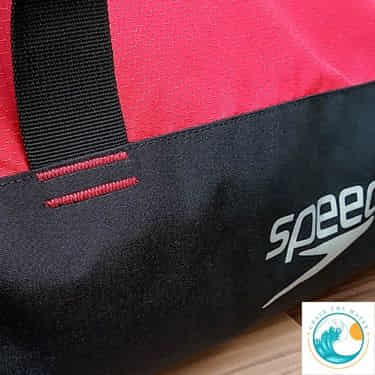 How Many Pockets Does This Bag Have?
This bag has two external pockets on either end of the bag.
One pocket has a zip, which is important for keeping valuables and small items secure.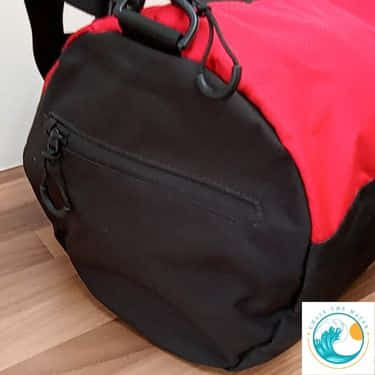 The other pocket is open, and just a pouch to store items.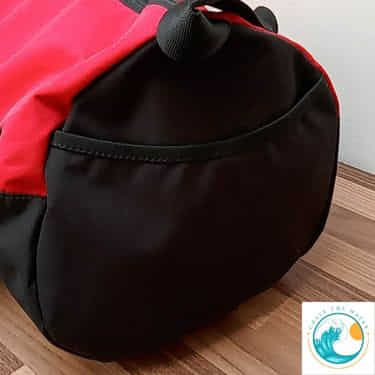 Internally it has a waterproof compartment pouch as mentioned above.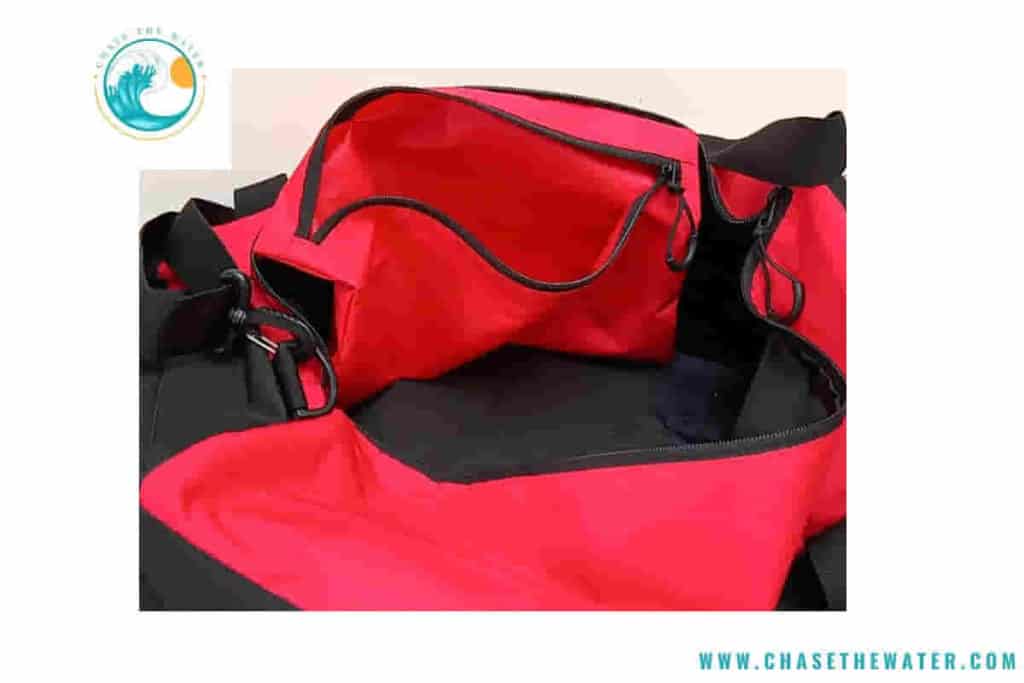 What Is Good About This Bag?
If you want a compact bag that will fit all your swimming essentials then this is a great swim bag.
I love the simple and compact design, with no frills. When swimming, we have a lot of gear to organise after our swim and this sleek bag is really good at keeping things organised.
I'm a fan of the duffel bag style. When you open it, all your contents are laid out in front of you in contrast to conventional backpack-style swim bags where things end up stacked on top of one another. In my experience with those types of backpacks, I always find myself having to unload everything just to get access to something that is at the bottom!
With this duffel bag, you can see all your items easily in this bag.
The internal waterproof compartment is really great. This is such a nice feature and a good place to store your wet swimsuit.
What Is Bad About This Bag?
I have one criticism of this bag, and that is the design of the pouch end pocket.
As this end pocket is open it is not very secure so I do not feel comfortable storing anything of value in it. Plus, it is not very deep so most items either won't fit or could fall out.
If Speedo redesigned this end pocket and turned it into a meshed zip pocket where you can store wet swim goggles and swim hats to allow them to air dry, then this would be the perfect swim bag. Right now, this end pocket is not practical or useful.
How To Carry This Bag?
Finally, one point to note with duffel bags is how they are carried. This swim bag comes with a shoulder strap and two carry handles. These are well-designed and comfortable.
You can hold the bag by your side or over one shoulder.
Unlike backpacks which have two straps so you can carry the bag on your back, duffel bags are not designed to be carried on the back.
It is important to consider this if you typically carry your swim bag on your back. For example, if you cycle to your local pool, this duffle-style swim bag will be difficult to carry as it is not designed to be carried on the back like traditional backpacks.
Would I Recommend These To My Best Friend?
I would absolutely recommend this to my best friend. In fact, this is such a good swim bag I would consider buying it as a gift for my best friend.
It is a very nice and compact design, made from a really nice lightweight material that fits all the swimming essentials.
For me, this is my favourite swimming bag and my first choice. For those who like the duffel bag style, this is a winner.