Being tired of a bulging swim bag, with two large beach towels taking up most of the space, I was compelled to purchase the Eono Microfibre Towel to see how it works.
Being a microfibre towel, it takes up a fraction of the space in my swim bag compared to my large cotton towels.
I have been aware of microfibre towels for years, but never found one I liked. To be honest, I have always found the material weird to touch and a bit "prickly".
The Eono Microfibre Towel is compact and silky soft to touch, which makes it an absolute game-changer for me.
In this review, I want to share my honest experience of using this towel. I am going to come straight out and say it – I love this towel.
I have linked to this microfibre towel on Amazon, so I will get a commission if you buy through my link, but I am not here to sell this towel, just to share my honest experience.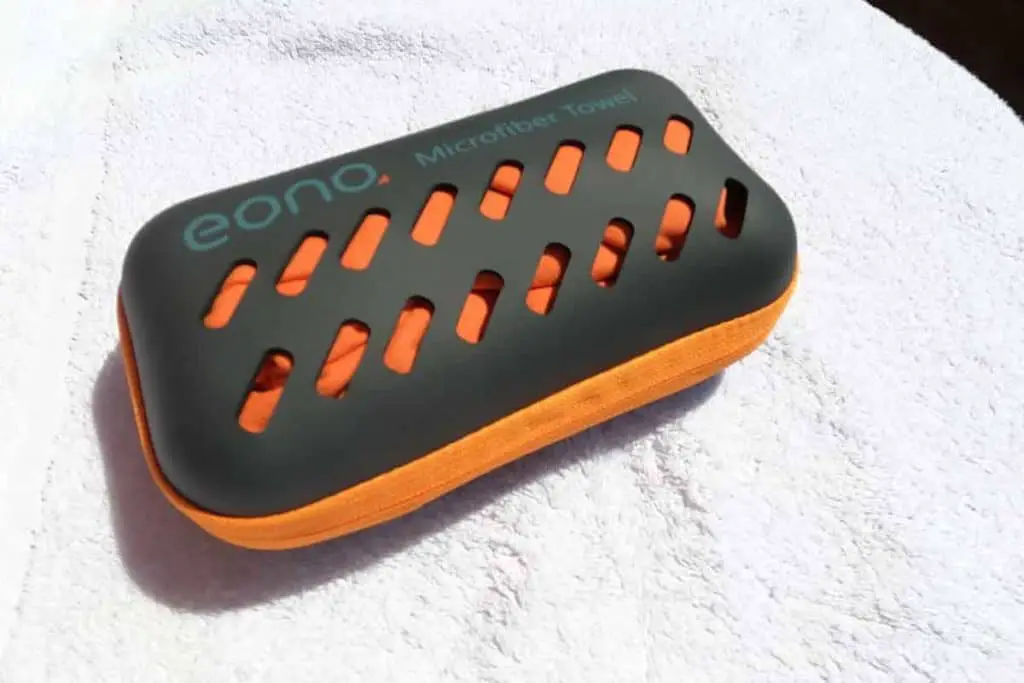 Is This Towel Space Saving?
Yes, absolutely.
Before discovering the Eono Microfibre Towel, I used to swim with two large beach towels with dimensions of 170cm by 40cm.
Although they were a thin cotton blend, and the smallest I could find, they took up a lot of space in my swim bag.
After your swim, dealing with a bulky and overflowing swim bag is a pain.
The Eono Microfibre Towel comes in the same size as my previous cotton towels, but takes up a fraction of the space.
Here is a picture of my old large cotton swim towels next to the Eono Microfibre Towel. Amazing space-saving properties.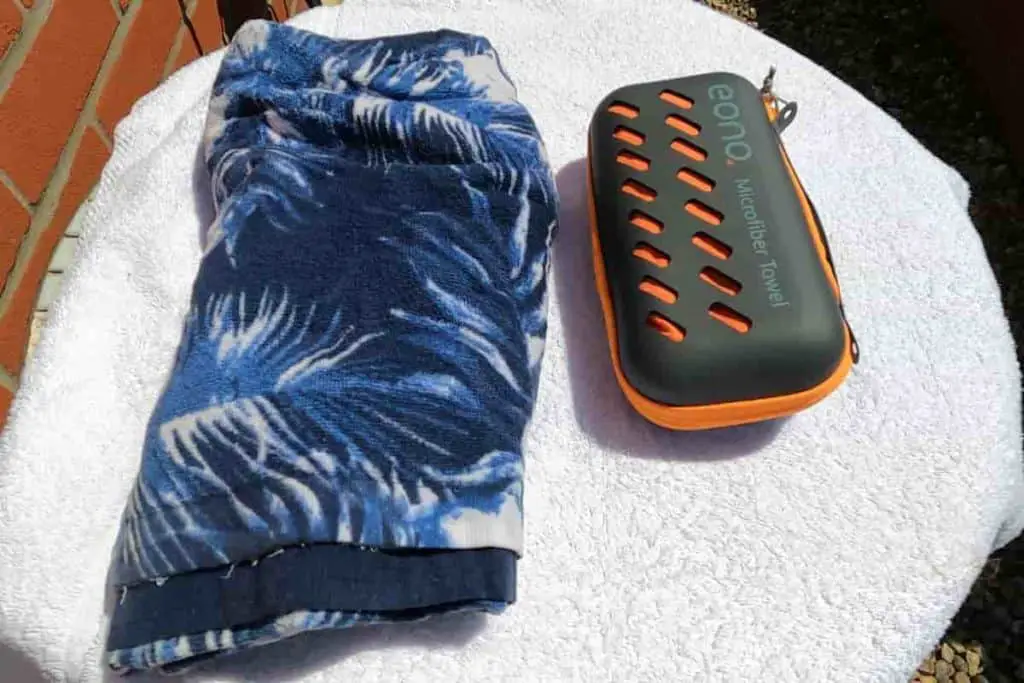 What Does This Towel Feel Like?
The Eono Microfibre Towel has a soft and smooth feel. It is described by the manufacturer as a high-quality soft suede microfibre.
When I first touched it, I was instantly reminded of the cloths you get for cleaning glasses. It has a soft leather and smooth feel.
I should point out that the materials used in the Eono Microfibre Towel are listed as Polyester and Polyamide, which are typically completely synthetic and not made from animals. This makes it suitable for vegans.
I was pleasantly surprised by this as typically I have found that microfibre towels have a hard "prickly" feel, which is a result of the tiny microfibres in the material.
Here is a close-up image of the Eono Microfibre Towel versus a standard cotton towel and regular microfibre towel.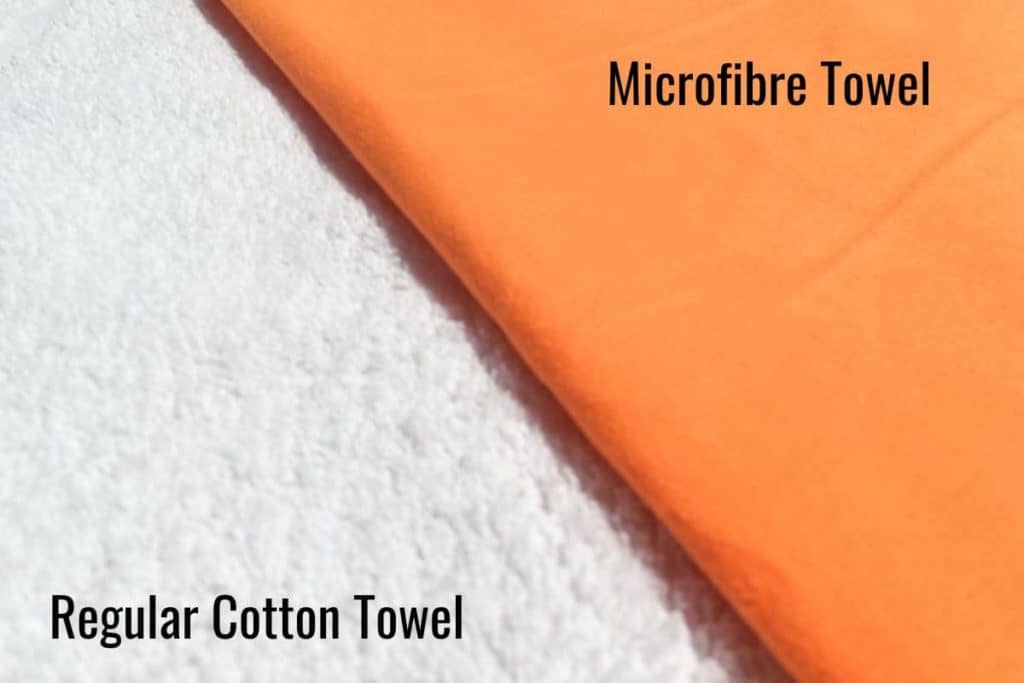 What Material Is This Towel Made From?
The Eono Microfibre Towel is made from:
85% Polyester
15% Polyamide
How Does This Towel Perform?
When you first use this towel, it can take a few seconds to get used to it.
With standard cotton towels, a quick rub will dry a surface. However, with the Eono Microfibre Towel, I have found that rubbing is not very effective.
It is best to wrap your body in the towel for a few seconds until the towel absorbs the moisture.
Once I got used to using this towel, I found it very effective at drying.


Does This Towel Dry Quickly?
This towel dries fast.
As a test, I wrapped my soaking wet swimsuit in this towel for 30 minutes, then I hung it out to dry.
Normally, it would take a full day for my cotton towels to dry from this, but the Eono Microfibre Towel felt almost dry within 30 minutes.
Next, I saturated a corner of the towel in water and put it out to dry on a cold and damp day. I was fully dry within three hours.
According to the manufacturer, the Eono Microfibre Towel dries three times faster than a normal towel. After using it, I have to agree.
What Sized Should I Get For Swimming?
The wonderful thing about the Eono Microfibre Towel is that it is so compact, that you can get an extra-large size and still have lots of room in your gym bag.
Personally, I use the large size, which is 170cm x 40cm.
Given that these towels are so compact, for comfort, there is little point in going smaller than 170cm x 40cm, which is the large.
Do I Need One Or Two Microfibre Towels?
The number of towels you use as a swimmer is a personal preference.
I need two towels for comfort as I have long hair. One towel takes care of my hair, while the other takes care of my body.
Is This Towel Machine Washable?
Yes, this towel is machine washable.
Here are the listed instructions on the label:
Machine wash cold
Tumble dry, normal, low heat
Do not use fabric softeners
Wash separately before use
Wash with like colours only
Do not iron
Is This Towel Good Value For Money?
This towel is excellent value for money.
I paid £18.99 for this large towel, which seems expensive for just a towel, but it has so many great benefits for swimming that it is worth every penny.
Here are the key things I love about this towel as a swimmer, which makes it great value:
It is so compact, my swimming bag is now slim and lightweight
The towels dry so fast that I can swim every day and have them dry and ready.
The towel microfibres claim to be "antibacterial" which is a great boost when drying off after using a public pool.
Would I Recommend This Towel To My Best Friend?
I would absolutely recommend this to my best friend.
Given the carry case design, soft touch, bright colours, excellent drying abilities and compact size, this towel is a winner.
My only word of caution is that microfibre towels are weird to touch for the first time if you have never handled one before, so be prepared for this.
Really compact
Lovely to touch
Very durable
Removes bulky towels from your swim bag.