Managing wet swimwear can be a pain. I find it particularly difficult when I swim before work in the morning, and my wet swimsuit soaks everything in my gym bag.
After much research, I purchased the Konunus Wet Bag, which is a waterproof reusable washable bag.
The Konunus Wet Bag stores wet swimwear, as well as any other soiled items you want to keep separate from clean and dry clothes.
In this article, I will cover what the Konunus Wet Bag is actually like, and if it worked well at storing my wet swim gear.
I will also share some images, so you can see how big this bag actually is and what you can expect to fit into it.
What Is A Wet Bag?
A wet bag is a bag that is specifically designed to store wet items, by keeping water inside the bag, preventing it from leaking out.
They are often made from waterproof or water-resistant materials and have a zipper or flap closure to keep moisture inside. Wet bags are ideal for storing swimwear and other wet clothing, and can be easily transported to and from the pool or beach.
How Does The Konunus Wet Bag Work?
The Konunus Wet Bag has a waterproof lining made from polyester.
There is a zipper to keep your gear inside. I was dubious when I saw the zipper as I was convinced that water would leak out through the zipper region, but it didn't.
The material of the bag itself is dual layer, which stops water from wet items inside the bag from leaking out.
Here is a picture of the inside of the bag. You can see the inner lining which is waterproof.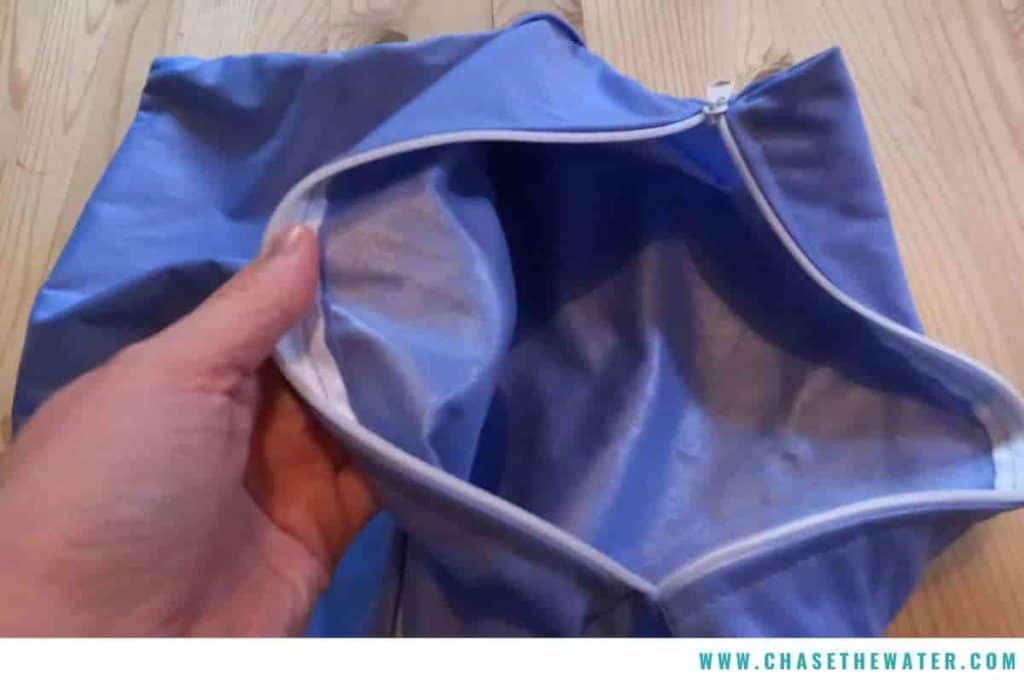 What Fits Inside This Wet Bag?
For such a small bag, I was shocked by how much you can fit inside.
You can easily fit a couple of wet swimsuits.
It is not large enough to store something like a very large beach towel, but my large microfibre towel fits comfortably inside.
Below is an image of my wet bag with my large microfibre towel, goggles, swimsuit, swim hat and shampoo inside! It fits a remarkable amount for such a small bag.
For a swimmer looking to store their wet swimwear, there is plenty of room.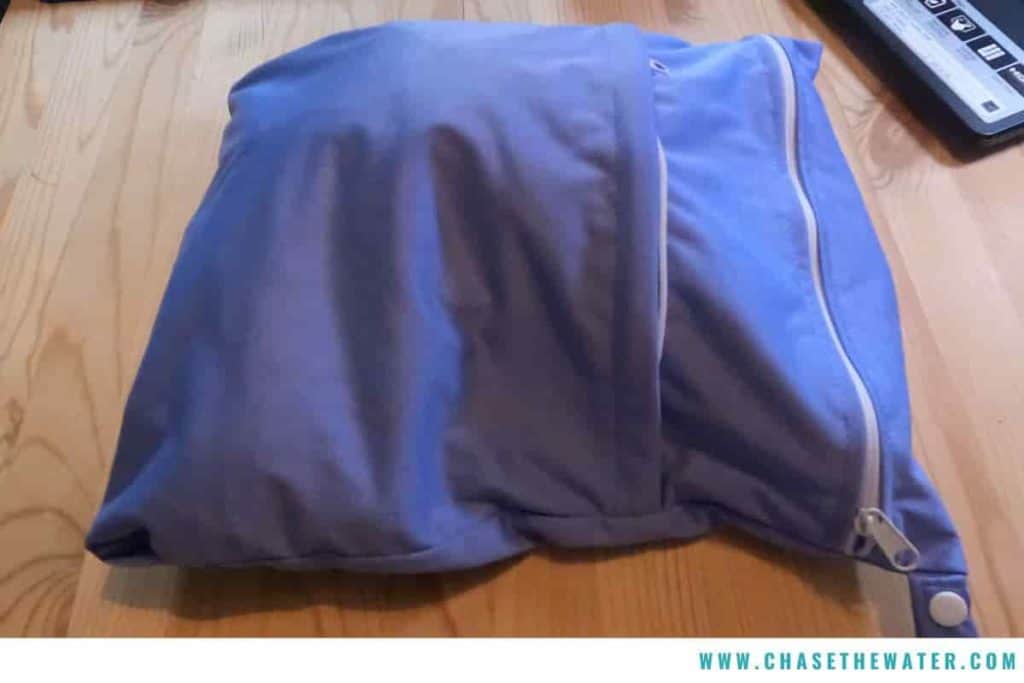 Can I Fit A Towel In This Wet Bag?
It is possible to fit a towel in this wet bag, but not a very big one if you are using standard thick fluffy cotton towels.
I did some tests and a standard fluffy cotton towel with a width of 65cm and a length of 124 cm will fit inside this wet bag.
Here is an image with the bag open so you can see the cotton towel.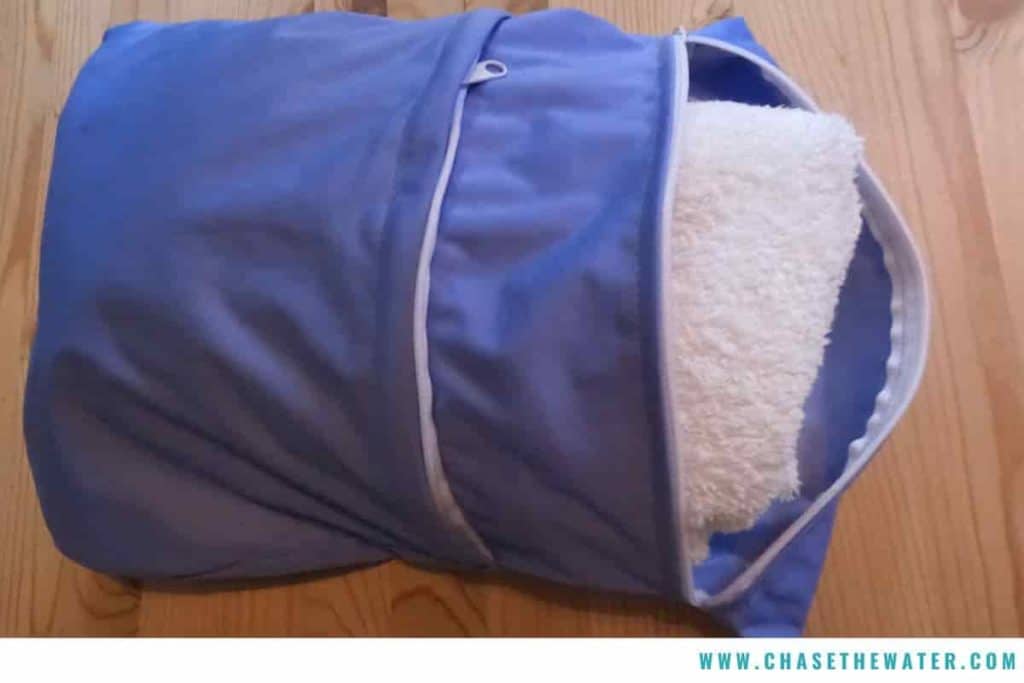 In addition, I fitted my beach towel in this bag, which comfortably fits. It is a bit thinner than a standard fluffy cotton towel and has a width of 74cm and a length of 143cm.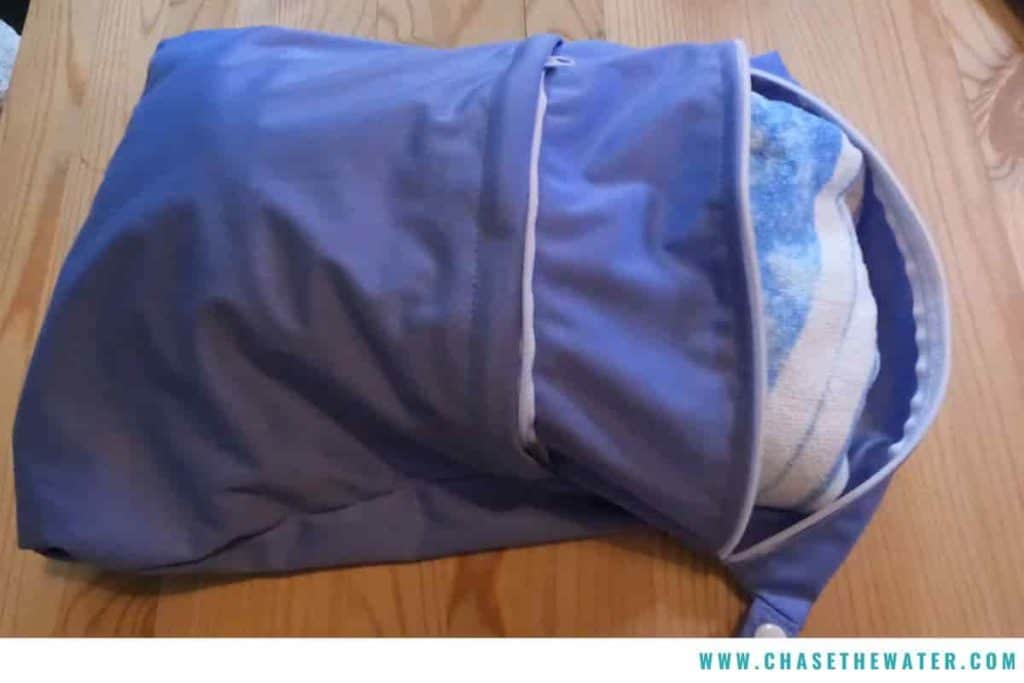 However, if you are swimming with a microfibre towel or thinner material towel (i.e. not a thick fluffy cotton towel) there is loads of space.
For example, I can fit two large microfibre towels of dimensions 140cm x 70cm into this bag. Here is a link to the microfibre towels I use.
Does This Wet Bag Actually Work?
Yes, this wet bag really does work.
At the time of writing, I have been swimming with this wet bag for over a month and it has not let me down.
It is wonderful to throw my wet swimsuit into this bag after a swim and not worry about my other gear getting soaked.
Before getting this wet bag, I would wrap my wet swimsuit up in a towel, which resulted in a heavy and wet towel. It is now wonderful that I no longer have to deal with this and my towels dry so much faster.
Would I Recommend This Wet Bag To My Best Friend?
★
★
★
★
★
Yes, I would 100% recommend this to my best friend.
This swimming product is not an essential item, and dealing with wet swimwear is something swimmers tolerate as part of the sport.
But since getting this wet bag, I would no longer be without it.
It is one of those products that you believe you don't need, but once you have it, it is hard to swim without.