After swimming clothes can greatly impact the happiness and comfort of your swim. For me, having nice and warm post-swim clothes can extend the joy of my swim, as I know I have some cosy clothes to look forward to.
So many people dislike swimming, not because of the actual swim, but because of the hassle involved post-swim to get dry and warm.
For outdoor swims, the best purchase you can make is a changing robe (or dry robe) which will allow you privacy, comfort and warmth when getting changed in a public place. For indoor swimming, large towels and a comfortable swimming tracksuit are great options.
Many overlook the importance of having a good post-swim routine, where getting warm and dry is effortless. If there are too many barriers to your swimming, including post-swimming changing discomfort, the likelihood of you swimming regularly is diminished.
In this article I want to examine what the best after-swimming clothes are for both outdoor and indoor swimming, covering:
What do people wear after swimming?
Do you have to shower immediately after swimming?
What shoes can you wear for swimming?
How do you change clothes after swimming?
What is the best after-swimming tracksuit?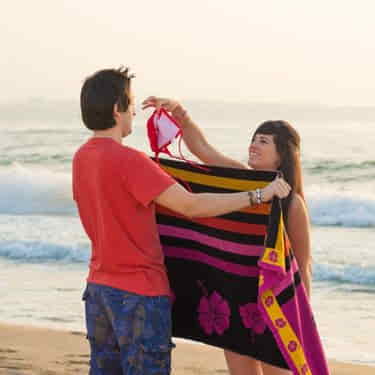 What Do People Wear After Swimming?
When people are finished with their swim, deciding what to wear can be a challenging task. Often it is not something many swimmers think about but having the right after-swimming clothes can make your post-swim routine enjoyable.
Depending on the type of swimming, there are different types of clothing that can be worn after swimming.
The first item that comes to mind as classic after swimming clothes is a dry robe, like this one on Amazon, also known as a swim robe or changing robe.
What Is A Dry Robe?
Also known as a swimming robe, a dry robe (view on Amazon) is a type of clothing that is specially designed to be worn after swimming, particularly after outdoor swimming or when there is a lack of changing rooms.
Usually made with lightweight, quick-drying materials, a dry robe can provide swimmers with an extra layer of warmth and privacy as they transition from the pool to their next activity.
The term "dry robe" comes from the brand name "Dryrobe". This brand is the market leader in swimming robes so the name 'Dryrobe' has become synonymous with changing robes. [source]
Here is an image of a typical dry robe. It may just look like a poncho but the outside is waterproof and the inside is usually lined with a warm and drying material. They are deliberately oversized to allow you to change underneath which gives some privacy if you are changing outdoors after a swim.
Dry robes come in both long and short sleeve varieties and some are even made with pockets and hoods for added convenience.
What Do You Wear After Outdoor Swimming?
For swimmers who have just finished swimming outdoors, it is important to consider the weather conditions before deciding what apparel to wear.
Depending on the temperature, it may be best to opt for a lightweight windbreaker or waterproof jacket instead of a heavy coat. Additionally, lightweight shorts or trousers and a long sleeve tee shirt can also help keep swimmers warm as they finish their swim.
For me personally, the two top priorities when deciding what to wear after an outdoor swim is:
Warmth – Choose warm clothes
Speed – Choose clothes that are quick and easy to put on
Warmth – Choose Warm Clothes
Even in the height of the summer, water temperatures can feel cold and after an outdoor swim, it is essential to get warm quickly.
When deciding what to wear after an outdoor swim you need to ask yourself, "are these clothes warm and will they raise my body temperature quickly".
In addition, if the water is particularly cold you will need a warm hat and fleece-lined gloves
Speed – Quick And Easy To Put On
After an outdoor swim, it is important to get warm and comfortable quickly.
If the water is particularly cold you may not have good dexterity in your fingers so fiddling with zippers or trying to put on difficult clothes like skinny jeans is a bad idea.
Loose t-shirts, baggy hoodies and comfy sweatpants are great options as you can quickly pull these on without too much fuss and they can be warm which will raise your body temperature quickly.
When the water is cold, your after-swimming clothes decisions are really important. You may be in a cold shock danger zone and not realise it. Check out my article here which covers the details of cold water shock in greater detail:
When the water is warmer, the need for warmer clothes is less essential for outdoor swimming and the focus shifts to comfort.
That said when it is warmer that usually means that the sun is out, therefore ensure your skin is protected from the sun.
After a warm outdoor swim, I will opt for baggy and loose clothing with the option of a hoodie as to be honest, here in the UK, even after a hot summer's day swim I feel chilly!
What Do You Wear After Indoor Swimming?
Indoor swimming pools tend to be much warmer than outdoor swimming pools, so it is often best to wear lighter clothing after an indoor swim.
A lightweight hoodie, a pair of sweatpants or shorts and a tee shirt are usually enough to keep swimmers warm while they dry off after their swim.
Additionally, many indoor pools provide locker rooms with changing areas where swimmers can change into something more comfortable.
Personally, I have a loose and light-fitting pair of tracksuit bottoms, my favourite loose swim marathon t-shirt and a baggy sweatshirt for my post-swim. These clothes are only used for my post-swimming, therefore it helps me stick to my swim routine as:
I always know what I am wearing post-swim.
I love these baggy clothes and look forward to wearing them, so they make my swimming experience better.
Do You Have To Shower Immediately After Swimming?
It is recommended that you shower immediately after swimming in both indoor pools and after outdoor swims. This helps to prevent any build-up of bacteria and reduces the risk of developing an infection.
For indoor pools in particular, washing the chlorine from your skin is important to reduce the risk of skin irritation as some swimmers, myself included, are sensitive to harsh chlorine and chemicals. I use chlorine removal shampoo and body wash which I can only seem to find on Amazon. (Here is a link to my favourite brand, but it is a bit on the expensive side!)
A good rule of thumb is to shower until you can no longer smell the chlorine on your skin, if possible. I say "if possible", as I have swum in highly chlorinated pools where the smell of chlorine in the air is so dominant it is hard to tell if it is on my skin or just the atmosphere.
In such environments, it is really important to shower well after your swim. To learn more about the impact of chlorine and how well chlorine removal shampoos work, I have covered this in greater detail in this article, "Do Chlorine Removal Shampoos Work? (A hairdresser weighs in)"
That said, it is not always possible to shower immediately after a swim, especially after outdoor swimming.
If you are in a rush, it is still important to rinse off as soon as possible and then shower when you get home.
I am lucky enough to swim in a gym with large changing rooms and lovely showers, however, if you are in a swimming gym where you just want to get home to shower (as not all public showers are so lovely), then choosing a "towel like" tracksuit or sweat pants with warm yet thin material can help you dry off and stay cosy until you get to your shower.
If you start to experience skin irritation, then you may need to change your routine to ensure you get straight to the shower after your swim.
What Shoes Can You Wear For Swimming?
Indoor Swimming
For indoor swimming, walking to and from the pool, often a pair of flip-flops are acceptable however it does depend on your local pool and its rules.
As a general rule for most public pools, outdoor footwear is not permitted on the pool deck. Therefore, if you need to wear footwear to get to the pool, a dedicated pair of flip-flops that are only used at the pool is acceptable.
These flip-flops must not be worn outdoors or outside of the pool locker room. This ensures that you are not bringing dirt or external bacteria from outside onto the pool deck.
For those who want to cover their feet while swimming in an indoor pool, pool socks (like these ones) are a great option.
Pool socks are generally made with thin latex, similar to latex swimming hats. These lightweight and thin socks can help protect your feet against infection and bacteria in the pool, such as Verruca.
Outdoor Swimming
For outdoor swimming, there are many footwear options that can be worn while walking to the water's edge and in the water.
Many outdoor swimmers will opt for a swimming shoe that has a sole which is thick enough to walk to over pebbles or stony terrain.
For example, a dedicated pair of swimming shoes such as Aqua Shield Water Shoes (link to Amazon) has a sole that is thick enough to allow you to walk over a pebble beach but soft and comfortable enough to wear in the water.
How Do You Change Clothes After Swimming?
Since changing clothes after a swim can be such a challenge and hassle for some people, many swimmers want to know hacks on how to discreetly change swimwear in a public place or how to change out of swimwear quickly.
When swimming outdoors, a good way to make the transition from swimsuits to cover-up clothing or everyday clothes is to have a large towel. Large towels can be tied in different ways: around your waist like a skirt, around one shoulder like a shawl, or looped around both shoulders like a cape.
A large towel is a great way to stay warm and cover up after swimming, without feeling too exposed.
As large towels can be difficult to pack and carry, I love the Eono Microfibre towel, found here on Amazon, which comes in XXL – 200cm x 100cm, which is lightweight and compact but still large enough to give you some coverage to change under.
For women who need a discreet way to change on the beach and do not have a Dryrobe (Amazon link), then this video is a great demonstration of how to discreetly get changed.
If you want to get changed quickly after swimming then having a system and being organised is the key.
For example, after my morning swim, I can get changed very quickly as I repeat the same routine every day.
I have this waterproof wet bag that holds my wet swimming suit which really helps manage my clothes. Once my wet swimsuit is in this wet bag, the water is contained in the bag and I am not worried about getting my dry clothes wet.
This frees up my two towels, which are medium and large Eono MicroFibre towels (Amazon link) to help me dry quickly as I change under them.
After I am dry, I have my cosmetics and hair products in a set pocket in my Speedo Duffle Bag, found here on Amazon, so they are easy to grab and use. I am not wasting time digging through wet swimwear and looking for them.
This simple system makes changing after swimming very fast.
What Is The Best After Swimming Tracksuit?
After swimming, one of the best pieces of clothing to wear is a tracksuit. (Also known as sweatpants, joggers or track pants depending on where you are in the world.)
Tracksuits are comfortable and ideal for keeping you warm after a swim, as well as providing coverage so that you can move around without feeling exposed. Tracksuits also come in a variety of styles and materials, making them perfect for after-swimming wear.
For most swimmers, wearing a tracksuit is the best post-swim clothing.
Some tracksuit styles are more suited for swimming. If you have to change quickly and don't feel you have enough time to dry off, a tracksuit with a towel-like material or good absorption properties is the best option.
Unfortunately, it is not easy to identify such tracksuits online, so heading to your local sports shop and physically feeling the actual tracksuit material to ensure it feels "towel-like" or will absorb water is the best way to get a good after-swimming tracksuit.
Final Thoughts
Choosing the right clothing after a swim can make all the difference to your swimming experience.
For outdoor swims, it is important to choose warm and comfortable clothes, while indoor swims typically require more lightweight attire.
Whether you are swimming indoors or outdoors, having the right attire for your swim can make all the difference in terms of comfort and convenience. Investing in a large towel or wearing a tracksuit post-swim will ensure that you remain covered up while still being able to move around freely.
In addition, having a system for changing and drying off quickly is also essential, as well as having the right swimwear products on hand to help with the transition. And finally, tracksuits are an ideal choice for after-swim wear.
Happy swimming!