In all my years of being on the water, I have never heard anyone say: 'I love my wetsuit!'
I love my swim gear. I get excited trying on new swimsuits, and I can talk for hours about different materials for swimwear, but when it comes to trying on my wetsuit, I see it is a chore.
Many of us have to wear a wetsuit as part of our sport. For example, if you are a triathlete, it may be compulsory to wear a wetsuit to compete. Others just like to cover up or keep warm. Most would just prefer a warm swimming suit.
There are alternatives to wetsuits but the variety of options available to you will depend on the temperature of the water you plan to swim in. It is difficult to beat a wetsuit for cold temperatures, but there are now alternative wetsuit materials on the market that may feel more natural than standard neoprene.
Personally, I want to find an alternative to my current neoprene wetsuit, as I feel it separates me from the water. The neoprene rubber creates a barrier between me and the water, which prevents me from fully experiencing the water on my skin.
In this article I will cover:
What is the purpose of a wetsuit?
What are the alternatives to a wetsuit?
Is there an alternative to neoprene?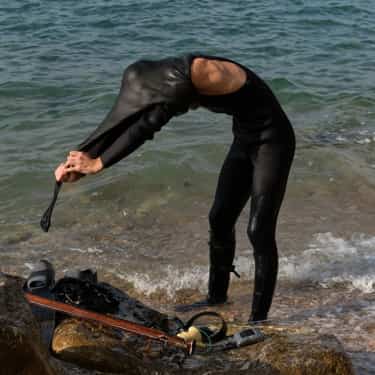 What Is The Purpose Of A Wetsuit?
Before seeking alternatives to a wetsuit, it's helpful to understand what the purpose of a wetsuit is and why they are such a popular choice for swimmers.
The primary purpose of a wetsuit is to keep a swimmer warm in cold water. In warmer waters, some swimmers will wear a wetsuit to protect themselves from jellyfish and other water hazards.
When you dive into the water, the wetsuit becomes fully wet (hence the name), and a thin layer of water is trapped between the suit and your skin.
Your body will then heat this thin layer of water, which will keep you warm and act as a barrier to the cold water.
Therefore, wetsuits are great for protecting against cold water, but what exactly is cold water?
The National Centre for Cold Water Safety shares the following guidance:
| Water Temperature | Risk Level | Comments |
| --- | --- | --- |
| Below 77F (25C) | OK | Feels cool. Breathing begins to be affected. |
| 70-60F (21-15C) | Dangerous | "You should certainly be wearing a wetsuit or drysuit below 60F, however, 60F (15C) is not the temperature at which most people should start wearing thermal protection." |
| 60-50F (15-10C) | Dangerous/Immediately Life-threatening | "Total loss of breathing control. Maximum intensity cold shock." |
You'll notice that the guidance from the National Centre for Cold Water Safety, states that you should wear a wetsuit or drysuit below 60F (15C).
If you are used to cold water, you might be OK with 60F (15C) and can go a bit lower, but this can be dangerous territory for the inexperienced. [source]
Coldwater shock can be as extreme between 50-60F(10-15c) as it is at 35f (2C). [source]
In summary, the primary function of a wetsuit is to keep us warm and, as cold water can be deadly, this is an important piece of kit.
What Are The Alternatives To A Wetsuit?
Cold Water – Wetsuit Alternatives
If you are venturing into cold water, it is hard to get away from wearing a wetsuit, but there are lots of alternative designs and non-neoprene materials that might make wearing a wetsuit less painful for you.
Always check that the wetsuit you are buying is suitable to protect you from the cold water temperatures you might be entering. If in doubt, ask the manufacturer.
Tepid Water – Wetsuit Alternatives
If you just need something to "take away the chill" and are not going into cold water as defined by the National Centre for Cold Water Safety, then there are some good alternatives to wetsuits on the market, for example, thermal rash guards.
Warm Water – Wetsuit Alternatives
Finally, if you are not going near cold water and just want to cover your body, there are also some nice products on the market that can help cover your skin, for example, modest swimwear. This is a warmer swimming suit.
Below is a list of all the products I can currently find that might work as an alternative to a wetsuit, depending on your needs.
Alternative To A Wetsuit
Suitable Water Temperature
Comments
Rash Guard
Tepid to Warm
Great to cover up, take away the chill and feel like you are wearing a t-shirt made from swimwear.
Thermal Rash Guard
Tepid to Warm
Similar to a rash guard, but may have a thin (1.5mm to 2mm) neoprene panel to help with slightly colder water.
Swim Skin
Warm Water
Good for warmer water, or when you need to cover your body.
Thermocline Suit
Tepid to Warm Water
Replace 2mm/3mm Wetsuit
An alternative to neoprene. Equivalent to a 2mm/3mm neoprene wetsuit, this is a full-body, technical suit.
Lavacore
Tepid to Warm Water
Replace 2mm/3mm Wetsuit
An alternative to neoprene. Thin full-body suit for warmer waters.
Eco Wetsuits
Cold Water
New range of wetsuits made from natural materials that are not neoprene, creating a better feel in the water.
AquaTherm
Unknown
Seems to be an interesting material that has the potential to replace a wetsuit at warmer temperatures.
Modest Swimwear
Warm Water
Specially designed swimwear to cover more skin.
Long Leg Suit / Jammers
Warm Water
Worn by competitive swimmers, these are swimsuits but with longer legs. Not an alternative to a wetsuit but good if you want to cover up.
1. Rash Guard
A rash guard (also known as a rash vest) is a thin shirt made from nylon, spandex or polyester. It feels like wearing a t-shirt that is a swimsuit.
As rash guards protect your skin against abrasions and the harmful rays of the sun, this is reflected in the name. Traditionally, rash guards were worn underneath wetsuits as a comfortable layer to protect the abrasive neoprene rubbing against your skin.
Today, rash guards are a very cool and well-accepted piece of water wear. They are great if you want to cover more skin in the pool or want a little extra warmth when swimming in warmer waters outside.
Rash guards are not good for cold water but are a good alternative to a wetsuit if you are swimming in warmer climates or pools.
2. Thermal Rash Guard
Similar to a rash guard, this swimwear has thicker neoprene panels which is better suited to cold water. I have heard these referred to as a thermal shirt for swimming in cold water.
Personally, I love thermal rash guards as they add extra warmth without the full need for a wetsuit.
I should point out that once again, they may not be good for cold water (below 15°C) unless you are already very conditioned and experienced with cold water.
A hidden benefit of thermal rash guards is that they don't "rise up" when you swim.
If your rash guard is not a tight fit, it can move up your torso as you swim, exposing your belly. Because the thermal rash guards have thicker material that is more rigid, this does not happen.
There are many styles of thermal rash guards on the market. Some will be made from one thickness all over the body and some will just have a thick front panel to protect your core.
I am a big fan of these as I can swim in colder water and have to wear a full-body wetsuit. I have found that keeping my core and extremities warm (feet, hands and head) is enough.
3. Swim Skin
Swim Skins have become very popular with triathletes as a substitute for their wetsuit in warmer conditions.
Again, Swim Skins are only safe in warmer waters. As I mentioned, when it comes to beating the cold, it is very difficult to find an alternative to the wetsuit.
A Swim Skin will not offer any buoyancy or warmth, but because it compresses and streamlines your body, it is a favourite amongst athletes who compete in warmer water.
For outdoor water swimming in warmer water when you want to cover up or benefit from a streamlined body form, then the Swim Skin is worth a look.
4. Thermocline Suit
A thermocline suit is a great alternative to a wetsuit, particularly if you are allergic to neoprene.
You can wear it by itself or underneath your existing wetsuit to protect against chafing.
By default, it is designed with a full range of motion, so suitable for all water sports.
It operates on the same principle as a wetsuit and is a tight fit that traps water against your skin which your body heats up, so you will remain warm.
Again, this is not for extremely cold water is but is an alternative to a 3mm wetsuit.
Here is a fantastic review that looks at this suit in greater detail.
5. Lavacore
This is another excellent alternative to a wetsuit, especially for those allergic to neoprene.
It is a specially designed fabric for diving that offers great comfort and good thermal protection, but without the bulk of a wetsuit.
Made from a trademarked material, which they call POLYTHERMTM it operates on the same principle as a wetsuit, by trapping water between the material and your skin which will keep you warm.
This material is lightweight and thin.
The downside of Lavacore is that they did not design it for extreme cold water conditions. Once again, a traditional 5mm wetsuit is needed for very cold water.
Lavacore would be equivalent to a 2mm/3mm wetsuit.
If you are required to wear a 5mm wetsuit, it is possible to wear the Lavacore suit underneath your existing wetsuit to layer up to keep extra warm.
This is a very interesting material which I really like. Here is a great demo from SimplyScuba showing you the details.
6. Eco Wetsuits
Thankfully, there seems to be a major shift towards environmentally friendly wetsuits.
In a nutshell, an eco wetsuit is one that has been designed and manufactured to reduce the carbon footprint of the wetsuit.
In addition to reducing the impact on the environment, these eco-friendly wetsuit manufacturers are finding alternative materials to neoprene, or petroleum neoprene, which I hope will introduce some options onto the market for those of us who are not fans of the traditional neoprene wetsuit.
At present, a lot of these wetsuits still feel "rubber-like" as they are made from natural forms of rubber, but they are still much nicer than neoprene.
Although this is still a new market, one of the best eco wetsuit designs that I have found is the ones made from natural rubber. The manufacturing process genuinely seems environmentally friendly, and they have replaced the oil-based polymers.
These eco wetsuits are truly an alternative to the traditional wetsuit and able to compete at colder water temperatures.
The Yulex range from Patagonia is a great neoprene free option, although they are on the costly side.
7. AquaTherm
AquaTherm is a lightweight super thin material to help you keep you warm in the water.
To be honest, I have been unable to find out what is the coldest temperature AquaTherm can be used at, but if you like to travel with your watersport and need an easy to pack wetsuit or want to keep warm on the water, this one might be worth investigating.
You can learn more about this material at the manufactures website: www.chillcheater.com
8. Modest Swimwear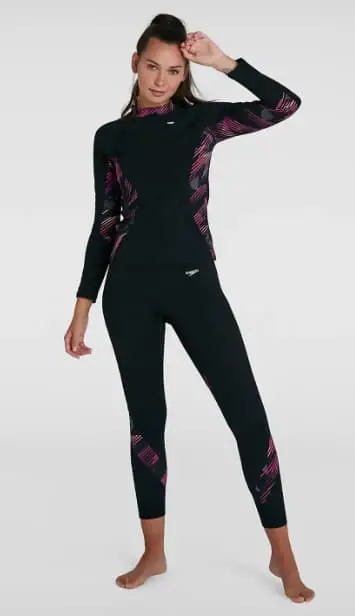 I appreciate that modest swimwear is not an alternative to a traditional wetsuit, but it is useful to know about for those who would like to cover up in the water or those looking for a warm swimming costume.
From full-body swimsuits to long leg suits, modest swimwear is a great option for pool swimming or warm water swimming to replace your briefs or skimpy swimsuit.
Speedo has a full range of modest swimwear that is worth looking at if covering your skin is the current reason you need an alternative to your wetsuit.
9. Long Leg Suit / Jammers
Really, this is not an alternative to a wetsuit, but it is worth a mention for those who want to cover up more skin in the pool.
Personally, I hate the high leg female swimsuits and I know plenty of male swimmers who hate tiny briefs. There is something very revealing about each design.
When I discovered the knee-length race suit (aka legsuit), I was so happy, as I felt a lot less exposed in the water.
For a beginner swimmer, this is basically a swimsuit but with a long leg, to just above the knee.
Long leg suits (male & female) are typically the cost of a standard swimsuit, but they vary in price range as some suits are more technical.
Many new swimmers may not be aware that such designs exist and are wearing wetsuits to cover up.
You could look at long leg swimsuits (typically called jammers for men) as a potential option to feel more comfortable in the water.
Final Thoughts On Wetsuit Alternatives
At present, it is difficult to find an alternative to a traditional wetsuit for cold water.
Cold water is a killer, and it is essential to always protect yourself from cold water. You need a full-body wetsuit with the correct material thickness to cope with the cold.
However, there are lots of alternatives to the wetsuit for warmer water, which can replace the existing 2mm/3mm neoprene wetsuit.
From the new wetsuit materials such as Lavacore and Thermocline, it is exciting to see this area of water sports advancing and hopefully, someday, the standard neoprene wetsuit will just be one option of many when you need to get in the water.
Happy swimming!