Swim goggles are an important piece of equipment for swimmers. They protect your eyes from the chlorine, help visibility in the water and overall, can directly influence how good of a swim you have.
It can be very difficult to "try before you buy" with swimming goggles, so I have compiled this buyer's guide to help you identify the swimming-goggle features that are most important to you so you can find a pair that you love.
I have purchased many pairs of swim goggles over the years, and many did not work out for me.
From this, I have learned what to look for in swimming goggles. This is really important to know, especially when buying goggles online, as it can be really difficult (or just an inconvenience) to return them.
To help you buy the best goggles for you, I have divided this buyer's guide into two parts:
Part 1: Swim Goggles Buyer's Checklist
This is a checklist to help you understand what type of goggles you will need for your swimming style.
Part 2: Important Swim Goggles Features
This section describes the key features of swimming goggles, from anti-fog properties to lens colour.
Part 3: My Top Recommendation
By understanding the distinct features of goggles and what is important to you, you can find a great pair of swimming goggles.
If you want to skip the details and want to know a reliable and great pair of goggles that work for a variety of face sizes, swimming conditions and styles, then I recommend the Speedo Adult Unisex Futura Biofuse Flexiseal Swimming Goggle.
Good field of vision
Very comfortable
Fits securely to face
Fits a wide range of face sizes
Good anti-fog protection
Range of lens colours available
If you have a smaller adult face and feel like most goggles are too big for you, the junior version of the Speedo Futura Biofuse Flexiseal works great.
Great for small adult faces
Very comfortable
Good anti-fog properties
Durable
Comes with a protective case
Part 1: Swim Goggles Buyer's Checklist
To simplify your hunt for the perfect pair of goggles, I have created a simple checklist or "roadmap" below, so you can eliminate the goggles that won't work for you and reveal your perfect match.
If I was in a swim store with you right now, these are the questions I would ask to help you find a perfect pair of goggles.
1. Will You Be Swimming Indoors Or Outdoors?
This is important to know as it will affect the colour of the lens and possibly the shape of the cup, depending on the level of visibility you will need.
2. What Style Of Swimmer Are You?
For example,
Do you race and want to swim fast?
Are you a leisurely swimmer?
Are you a swimming enthusiast who wants to cover long distances and be as efficient as possible?
The style of swimming you do and the level at which you want to perform will influence the type of goggles that will work best.
3. Do You Have A Small Face?
For adults with smaller faces, regular goggles can sometimes feel too large, or perhaps they feel like they are "sticking out" too much.
Finding a pair of goggles that are suited to a small face will work much better for you.
4. What Really Annoys You About Swimming Goggles?
Taking a moment to think about what you really hate about swimming goggles will help you eliminate a lot of bad buys straight away.
Perhaps you hate poor fog protection? Do you hate leakage? Perhaps the nose bridge hurts? Perhaps you hate dark circles that might appear on your face after your swim? (Often called racoon or panda eyes)
Knowing what you dislike is a good way to help you avoid certain types and styles of goggles.
In order to understand this further, let's look at common swimming goggle features, what they mean, and how they affect your swim.
Part 2: Swim Goggles Features
This is a list of all the different aspects and features of swimming goggles, explaining how they affect your swim.
1. Lens Colour
Goggles with cool lens colours such as black or mirrored look awesome. However, the colour of the lens has a purpose.
The swimming goggle lens colour you pick should be determined by what environment you are swimming in.
What Are The Different Swimming Goggle Lens Colours For?
Here is a list of the most common swimming goggle lens colour and when to choose a specific colour.
Goggle Lens Colour
When Best To Use
Application
Clear
Indoors
Indoors or low light conditions to improve visibility. Best for indoor pools.
Black / Smoke
Outdoors
Outside swimming on sunny days or in bright swimming conditions to reduce brightness.
Mirrored
Outdoors
Outdoor use, to reduce brightness and glare.
(See polarised goggles for info on reducing glare)
Blue
Indoors
Best suited to indoor pool use. Reduces surface glare.
Yellow / Amber
Indoor Use
Best for indoor use. Helps with improving clarity in indoor pools.
Red
Indoors / Outdoors
Good for medium to low light conditions to enhance visual contrast.
This Table Shows Swimming Goggles Lens Colours & Their Use
This is only a guide. It is okay to swim indoors with smoke-coloured goggles if you really want a dark lens.
However, if you pick a lens colour suited to your swimming light conditions, you will have better vision and clarity in the water.
2. Anti-Fog Protection
If you are a regular swimmer, having goggles with anti-fog protection is essential.
When our hot faces touch the colder water, condensation will form on the inside of our goggles, which causes the goggles to fog over.
A good pair of goggles with anti-fog protection will reduce, if not eliminate, this.
The anti-fog protection is typically applied as a light coating on the inside of the goggle lens. This is something you cannot see, so when cleaning your goggles, try to avoid touching the inside of the goggle lens, as it will gradually remove this coating.
Although anti-fog protection comes as standard on most good goggles, without it, swimming is not so much fun.
3. Swimming Goggle Cup Size
As a general rule, swimming goggle cup size tends to be very small or large.
Which size you pick will really depend on personal preference.
The smaller cup size is very popular amongst competitive swimmers, to ensure a slimline profile in the water. The downside is that the cup can feel very uncomfortable, as it can sometimes sit right on the eyeball.
The larger cup size is very popular with recreational or non-competitive fitness swimmers, as they are far more comfortable.
Which you choose will depend on your personal preference. However, ensure that the goggle passes the "suction test" to reduce the chances of leakage, which I have explained in more detail in this article.
4. Nose Bridge
Swimming goggles will either have an adjustable or rigid nose bridge.
If you have had problems with a good swimming goggle fit in the past, then considering a pair of swimming goggles with an adjustable nose bridge could be a good option.
An adjustable nose bridge can help with a more custom fit.
5. Polarised Goggles
If you are swimming outdoors or in the sun, polarised goggles are excellent.
Polarised goggles reduce glare. This is important on bright sunny days when the sunlight is reflecting off the water's surface.
Unlike mirrored goggles, which reflect light away from the eye, polarised goggles work by filtering the light reaching your eye.
A thin chemical film coats the goggle lens. This film actively filters light, reducing glare and brightness.
To learn more about polarised goggles, I have covered them in greater depth, including examples of how they filter light in this article, What Are Polarised Swim Goggles?
6. Gasket Material
The gasket material, which is the material that creates the seal around the goggle to keep water out, will affect comfort and functionality.
Some goggles have very soft and large gaskets, and others have hard plastic or even spongy foam.
Personally, I avoid any hard plastic or foam as they leak and are uncomfortable.
There is also an ongoing debate on the impact of the gasket material and suction level on the soft tissue around the eye, which I discussed in this article, "Can Swim Goggles Give You Bags Under Your Eyes?"
My swimming goggles of choice are the Speedo Unisex's Futura Biofuse Flexiseal Swimming Goggles.
These goggles have a large and very soft gasket material which you can see in the following image, making these great to stop leaking and super comfortable.
7. Straps
Often overlooked, good-quality straps will help with the following:
Keep your goggles in position, especially as you dive.
Work with your hairstyle and head shape.
Be durable and long-lasting.
Be wide enough to be comfortable and not dig in.
It is very frustrating to be fiddling with straps in the pool. In an ideal world, you will fix your goggle strap just once and never touch it again.
I always ensure my goggles have "split straps" which can be seen in the image below. This is a strap type that is split, which can help secure the goggles to your head as you dive and can work around any hairstyle such as a bun or ponytail.
8. Prescription Swimming Goggles
If you currently wear glasses, it is possible to get a fantastic pair of swimming goggles with a prescription.
Speedo, a great and trusted brand, offer prescription swimming goggles. Below is a link to this service from Speedo.
9. Price
Swimming goggles can range dramatically in price from a few dollars to over $60, depending on the brand and functionality.
If you find a pair of swimming goggles that you absolutely love and cannot swim without, it is often recommended, if you can afford it, to buy a couple of pairs.
This is because many models of swimming goggles can change with each new swimming season.
When you find a pair you love, you are going to want to stick with them.
10. Small Face
As an adult swimmer with a small face, it's difficult to find a pair of swimming goggles that fit well.
I find the Speedo Unisex Junior Futura Biofuse Flexiseal Swimming Goggle very good for adult swimmers with small faces.
In addition, the Aquasphere Kaiman Compact swimming goggles are really great for small faces. I have been testing these goggles recently and I really love them. Perfect for small faces.
To learn more about choosing a pair of swimming goggles for a small face, check out this article that covers this topic in much greater detail, Best Swim Goggles For Small Faces (Measurements included)
Part 3: My Recommendations
The following is the pair of goggles I swim with every day: Speedo Adult Unisex Futura Biofuse Flexiseal Swimming Goggle
Here is an image of my Speedo goggles.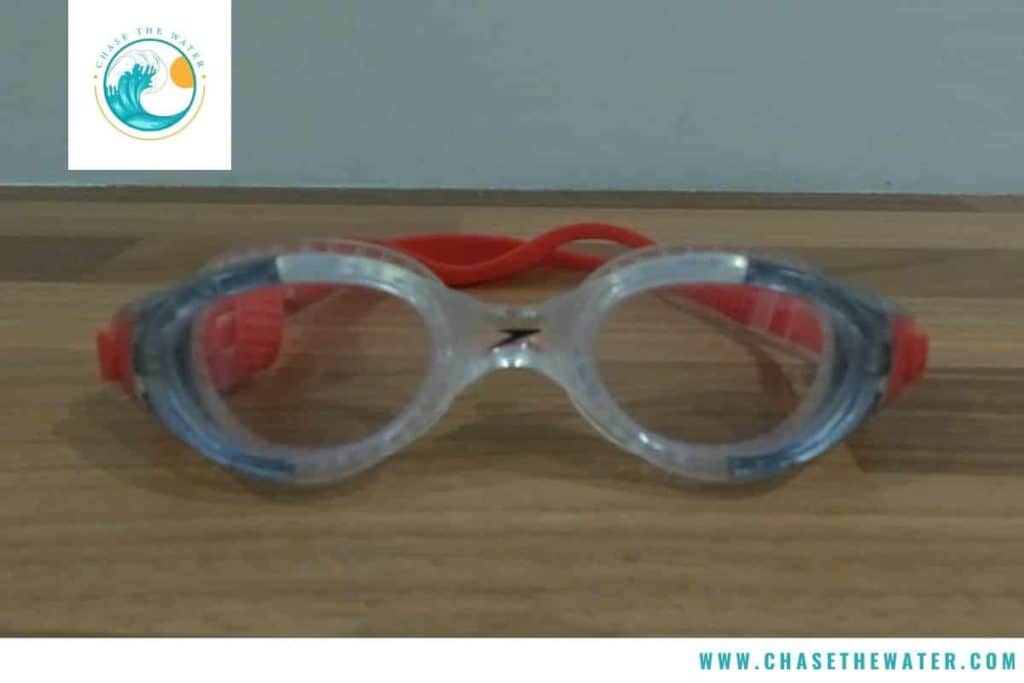 If you want a great pair of goggles that fit a wide range of faces, have good anti-fog protection, good sealing, and are comfortable, then these are my top pick.
Typically, if you swim every day, after three months you will see them degrade and will need a replacement. This is an excellent lifespan for a pair of goggles.
Good field of vision
Very comfortable
Fits securely to face
Fits a wide range of face sizes
Good anti-fog protection
Range of lens colours available
For adults with smaller faces, then the junior size of Speedo Futura Biofuse Flexiseal range work really well.
Just as good as the adult size, but with a smaller lens profile so they don't feel like they stick out too much, which is a common complaint amongst swimmers with smaller faces.
Great for small adult faces
Very comfortable
Good anti-fog properties
Durable
Comes with a protective case
In addition to the Speedo Junior Futura Bioseal Flexiseal goggles, I highly recommend the Aquasphere Kaiman Compact swimming goggles for small faces. I have recently been testing these and they are working great.
Best Tips For Buying Swimming Goggles Online
Many of us, myself included, buy our swimming gear online. My favourite shopping places are Amazon and the Speedo Store.
The downside of buying swimming gear online is the lack of "try before you buy".
The great thing about buying directly from Speedo is that the customer service is amazing, so if you have any fit problems, they are very helpful.
Here are some tips to help you make better swimming goggle purchase online.
1. Ask The Manufacturer Questions
The best swimming goggle manufacturers will be happy to answer your questions.
So if you are concerned about the fit, for example, if you have a small face, you can always ask the manufacturer for their advice or even some measurements.
2. Complete The Suction Test
Before you try out new goggles in the water, you can see how well they fit on dry land.
A pair of swimming goggles that fit well will form an airtight seal around your eyes. It is this airtight seal that stops water from getting in.
To check this airtight seal, complete the following steps:
Gently press the goggles onto your face.
For about a millisecond or so, the goggles should stick onto your face without being helped.
If you feel a slight suction from the goggle cups, then you know they should form a watertight seal.
This is called the suction test.
3. Choose A Reliable Supplier That Accepts Returns
To avoid costly purchases that you don't use, check that the supplier will accept returns.
It is possible that once the goggles become wet, a manufacturer may not accept a return, so it is worthwhile checking out the supplier's return policy before purchase if this concerns you.
Final Thoughts
It's hard to find a pair of swimming goggles you love and it is always a concern trying new swimming goggles, especially as they are not cheap.
I have tried many goggles and with time; you find that a certain shape and style just works for your face.
If you are very unsure about buying a different style of swimming goggles, it really helps to stick to the big brands such as Speedo, Aquasphere or Arena with swimming goggles as they always get the basics right and have amazing customer service if you need help or a return
The Speedo Adult Unisex Futura Biofuse Flexiseal swimming goggles are a great place to start if you want something reliable that can fit a range of faces and comes in a range of goggle lens colours.
Happy swimming!
Further Advice