Mirrored swim goggles are amongst the coolest goggles on the market. However, they are designed for more than just looking good.
Mirrored swim goggles are typically used in bright indoor pools, our outdoor environments where the light levels are very bright. The mirrored goggle lens works by reflecting light away from the eye. Although they are great at handling brightness, they are less effective than polarised goggles for reducing glare.
Mirrored and polarised swim goggles often get confused, and it's useful to understand why and when to use mirrored swim goggles.
In this article, I will cover:
What are mirrored swim goggles?
Why use mirrored swim goggles?
Are mirrored swimming goggles better?
Are mirrored goggles polarised?
Do mirrored goggles reduce glare?
Why do Olympic swimmers wear mirrored goggles?
What are some good mirrored goggles?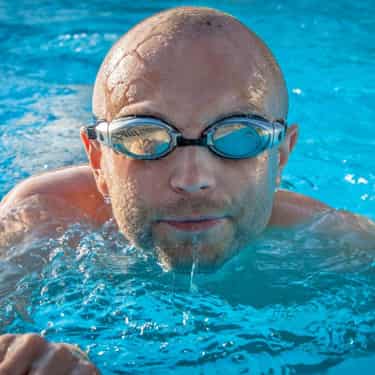 What Are Mirrored Swim Goggles?
Mirrored swim goggles have lenses that are coated with a reflective material, giving the goggles a mirror effect, hence the name.
Mirrored goggles are designed for bright swimming environments such as outdoors or bright indoor pools.
Why Use Mirrored Swim Goggles?
As mentioned, the primary use of mirrored swim goggles is to reduce brightness so you can see better in dazzling or well-lit environments.
They work by reflecting light away from the eye, thanks to the mirror-like lens.
As well as being used for bright environments, many competitive swimmers use mirrored goggles to give them a psychological advantage. With mirrored goggles, not only do you look super cool, but no one can see your eyes.
This can give competitive swimmers a psychological sense of privacy when they are on the starting blocks.
Are Mirrored Swimming Goggles Better?
When choosing your swimming goggles, the key is to select the right goggles for your swimming environment.
Mirrored swimming goggles are neither better nor worse than other goggles, but they are designed for one thing, and that is to reduce the brightness in outdoor or well-lit pools.
You may find that mirrored goggles are not very good for dimly lit areas or indoor pools.
In addition, if you are swimming outdoors with little sun or on a dull day, you may find the view is too dark when wearing mirrored goggles.
It is all about using the right goggles for the right situation. For bright conditions, the mirrored swimming goggles are one of the best.
Are Mirrored Goggles Polarised?
Mirrored goggles are not polarised by default. It must state on your goggle specifications if the lenses are polarised, regardless of the lens colour or finish.
Polarised goggles have a special film on the lens surface that filters light, whereas mirrored goggles work by reflecting light away from your eyes.
Glare can be a real problem when you are next to a body of water on a sunny day. Glare is caused by light reflecting off many shiny surfaces.
Mirrored goggles are not very effective at filtering this glare. They do help, but are not the best option.
To deal with glare, you need to purchase goggles that specify they are polarised. Polarised goggles are the best at dealing with glare.
To learn more about polarised goggles and what you need, check out this article, What Are Polarised Swim Goggles?
Do Mirrored Goggles Reduce Glare?
As mentioned, mirrored goggles are not the most efficient at reducing glare. The best swim goggles to reduce glare are those with polarised lenses.
Mirrored goggles will reduce the brightness and take the edge of the glare, but they are not the best option to cope with glare.
Mirrored goggles work best when the sun is high in the sky or when there is very little light reflection off the water.
In order to reduce glare, you need to wear polarised swim goggles.
Why Do Olympic Swimmers Wear Mirrored Goggles?
I find it fascinating that the vast majority of Olympic swimmers wear mirrored goggles.
Olympic swimmers will spend most (if not all of their time) swimming in indoor pools and although their swimming environments are well lit, I often wonder why so many opt for mirrored goggles when there is such an array of options out there. 
Although all competitive swimmers will have their own reasons, some of the main reasons competitive swimmers opt for mirrored goggles are:
They look cool.
They give a phycological boost.
As strange as it might seem, there is something very private about wearing mirrored goggles. As no one can see your eyes, you feel less exposed and almost "hidden".
With clear goggles, you feel like the world can see you, but with a mirrored lens, the fact that your view is darker and no one can see the white of your eyes creates a psychological barrier.
This psychological barrier can be a significant advantage when competing.
What Are Some Good Mirrored Goggles?
There are many great mirrored goggles on the market. Personally, I love the Speedo and TYR brands as their quality is excellent.
Here are some of my favourite mirrored goggles:
Below are some of the best swim goggles for small faces.
Great for peripheral vision
Adjustable nose bridge
Anti-fog
Multiple lens colours available
Price Range: £35-£40
Great wide view
Very comfortable
Anti-fog
Great suction
Multiple lens colours available
Price Range: £40-£58
Very comfortable
Good general fit
Very cool carrier case included!
Price Range: £45-£49
Comfortable
Adjustable nose bridge for a good fit
Anti-fog
Multiple lens colours available
Price Range: £18-£25
Super comfortable
Good seal
Good for smaller faces
Price Range: £20 – £25
Final Thoughts
Mirrored goggles are definitely the best looking goggles on the market and a great option for those looking to reduce the level of brightness in their local pool.
Personally, I have found no particular advantage that mirrored goggles have over dark lens polarised goggles.
The downside of mirrored goggles is that they can be very dark in dull environments. It is best to stay away from mirrored goggles if you swim in darker indoor pools, as you will soon crave more visibility and light.
Like all goggles, they have their place and it can be best to have a range of swim goggle types with different lenses in your swim kit bag, so you always have the best goggles for your swim.
Happy swimming!
Related Articles