Finding a good goggle fit is difficult at the best of times, but when you have a small face, this task becomes even harder.
As a general rule, the best goggles for small faces have a small lens height. A small lens height will take up less area on the face, sit above the cheekbones and, as a result, give better suction to reduce leakage.
In this article I will look at:
What is a 'small face' when it comes to swim goggles?
Can I use junior swim goggles if I have a small face?
Do swimming goggles come in different sizes?
How to check the fit of swimming goggles?
Examples of the best goggles for small faces
Besides a small lens height, it can help to choose a pair of goggles that have an adjustable nose bridge to help achieve a better fit.
However, after multiple testing of different goggle types for small faces, the lens height proved to be the most critical to performance overall.
Below is an image of what I refer to as the "lens height". If you have a small face, it can really help to look for a lens height that is relatively narrow, or small.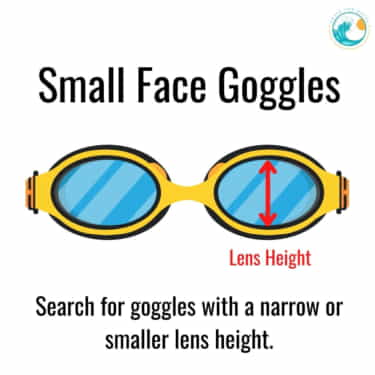 What Is A 'Small Face' When It Comes To Swim Goggles?
There is no definition of a "small face" with exact measurements I can find, but you should consider a smaller fitting pair of swim goggles if you feel that:
Your swim goggles feel heavy on your face.
Your swim goggles feel bigger than your face.
Your swim goggles feel like they are always in the way.
Getting the right fit goggles will really improve your enjoyment in the pool, whether you are leisure swimming or fitness training.
As a reference point, I consider myself to have a small face and I have included my facial dimensions below.
My current favourite pair of goggles that work very well with these dimensions are the Speedo Adult Unisex Futura Biofuse Flexiseal Swimming Goggles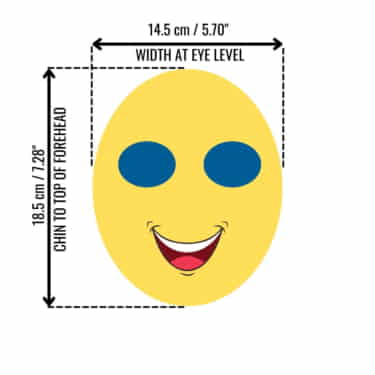 My Favorite Goggles For My Small Face
Speedo Adult Unisex Futura Biofuse Flexiseal Swimming Goggle

Can I Use Junior Swim Goggles If I Have A Small Face?
It is possible to use junior swim goggles as an adult if you have a small face. This is certainly an avenue worth investigating if you are struggling to find a pair that suit you.
From my experience, I have tried junior swim goggles as an adult and found them very uncomfortable.
Most junior swim goggles have a very short and narrow lens that is so small it often sits on the eyeball of adult swimmers. This is a very uncomfortable position.
In hindsight, from my experience, the junior swim goggles I tried were a pair of basic Adidas goggles that had a hard seal around the lens and a nose bridge that was not adjustable.
Therefore, with these specific junior goggles, I could not adjust the goggles to fit the width of my face and with the hard lens seal, I could not achieve a comfortable fit.
If you are considering purchasing a pair of junior goggles for a small face, a good option is the "Speedo Junior Unisex Futura Biofuse Flexiseal Swimming Goggle".
These goggles have a soft seal around the edge of the lens which takes the pressure off the eyeball giving a more comfortable fit.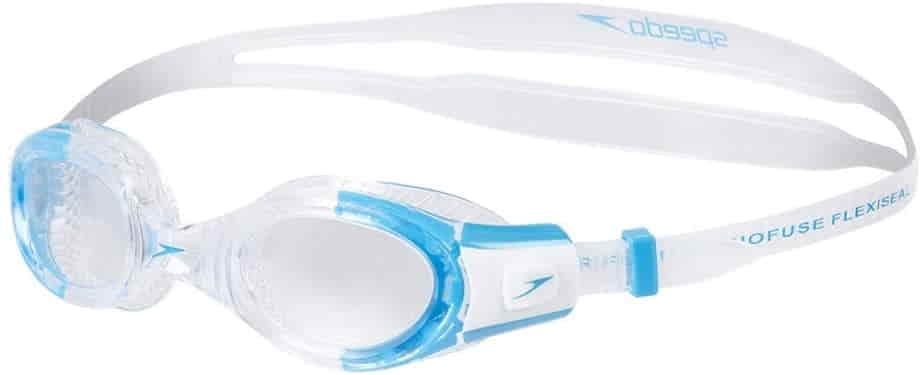 Do Swimming Goggles Come In Different Sizes?
Faces come in different sizes and as a result, there are many swim goggle sizes out there.
You might be lucky enough to pick a shape and size that works for your face straight away and you stick with that pair for your full swimming life.
Typically, however, there is the need to experiment with different goggle sizes and lens shapes.
It can really help with comfort and fit to get a pair of swim goggles that are fully adjustable, i.e. have an adjustable nose bridge.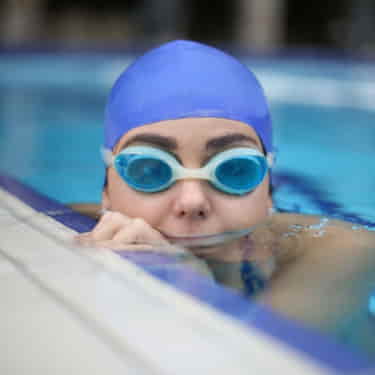 How To Check The Fit Of Swimming Goggles?
When searching for a perfect pair of swimming goggles to fit your face, there are some basic steps you can take to ensure the goggles fit and work well.
It is rarely possible to try a pair of goggles before you buy, so before spending the cash or taking a dip, check the fit using the following guide.
1 – Check the suction of the eyecups
This is a fundamental check to do to ensure that your goggles fit and will work well.
Press the goggles onto your eyes and allow the eyecups to stick to your face. If there is light suction, (which is what we are looking for), the goggles will remain on your face for a few milliseconds without falling off.
Of course, they will fall off after a few seconds due to gravity, but you should feel them suck on your face and for a short period remain in place.
If the goggles do not suck on your face or you do not feel any suction, then this means that the goggles are too big for you or they don't fit well. As a result, the goggles will not perform well for you and will let water in.
2 – Nose Bridge
The nose bridge of the goggles is really important to pay attention to in order to get a comfortable and reliable fit.
Ensure that the goggles fit nicely on your nose, with the spacing between the goggles matching your eye spacing well.
It can be an enormous advantage to have goggles with an adjustable nose bridge, as you can adjust the fit of the goggles to your face.
3 – Head Straps
The goggle straps are there to keep the goggles in place. The watertight seal is created by the suction of the eyecups, not the tightness of the straps.
The goggle straps will help keep the goggles in place while swimming and turning, therefore the goggle straps should be just tight enough to do this without leaving marks on your face or pulling on your head.
To learn more about how to wear swim cap and goggles I have covered this in detail in this article, How Do You Wear Swim Caps And Goggles?
Here is a fantastic video that covers the three key steps to take when checking if a pair of goggles will fit your face.
Examples of the Best Goggles for Small Faces
Below are some of the best swim goggles for small faces.
Great for small faces
Excellent seal
Very comfortable
Anti-fog
Mulitple lens colours availbe
Price Range: $20-$25
Great for small faces
Very affordable
Anti-fog
Mulitple lens colours availbe
Price Range: $7-$18
Designed for smaller faces
Plexisol lens
Scratch-resistant coating
Mulitple lens colours availbe
Price Range: $23-$25
Suitable for small faces
Plexisol lens
Anit-fog
Mulitple lens colours availbe
Price Range: $20-$23
Designed for smaller faces
Soft seal
Adjustable nose-bridge
Mulitple lens colours availbe
Price Range: $11-$12
CLT – Curved Lens technology provides 180 degree peripheral vision
Good seal
Anit-fog
Mulitple lens colours availbe
Price Range: $13-$16
Quick adjust system
Soft seal
Extended 180 degrees Peripheral vision
Mulitple lens colours availbe
Price Range: $17-$20
Related Articles: