Finding the best swimming goggles for your personal swim style and needs can be tricky. We all have different-sized heads and we all place different demands on our goggles.
As a general rule, the best swimming goggles will prevent water from leaking in, will be comfortable to wear, will have anti-fog protection and will have a lens colour that will give you the best visibility for your swimming environment.
It can be very difficult and frustrating to find a good pair of goggles, especially as it is not always possible to try before you buy.
In the article, I want to look at the factors that are important in choosing the best swimming goggles for a swimmer's specific needs, including:
Top tips to choose the best swimming goggles for you
Can I get prescription swimming goggles?
How do I know what size swim goggles to get when buying online?
Are polarised goggles better?
What are the best swimming goggles?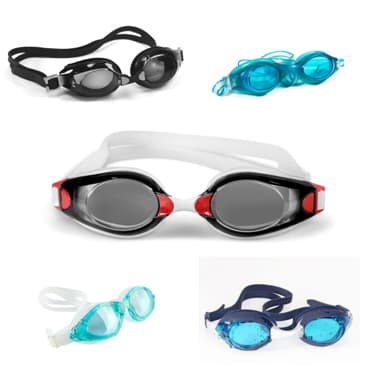 Top Tips To Choose The Best Swimming Goggles For You
1 – Pick The Right Goggle Shape & Type
The very first step in choosing the best swimming goggles is to pick the right goggle shape.
Goggles come in different shapes and it will help to narrow your search down to establish what type of goggle you might need.
Once you know the type of goggles you need, then you can start thinking about the finer details, such as how they should fit and what colour lens they should have.
The following table shows the main goggles, what they look like, and when you might need them.
When Do You Need These?
Race days or competition events. These goggles are streamlined with a small lens cup.
As a side note, some racing goggles can be painful to wear. As the goggle lens cup is sometimes so small, it might sit on your eyeball or inside the eye socket in the skull, on the soft tissue.
There are more comfortable racing goggles on the market, such as the Speedo Unisex Fastskin Elite Swimming Goggles, worn by Olympians such as Cody Miller.
When Do You Need These?
A good pair of comfortable goggles are great for training and fitness.
Typically, standard training goggles have a large lens, good visibility and a comfortable seal for maximum comfort.
Your training goggles should be comfortable enough to stay on for a longer training session.
For maximum comfort, ensure your training goggles have anti-fog protection.
When Do You Need These?
These are cheaper and fun for leisure pool time.
The very cheap recreational goggles will not have anti-fog protection, which can become irritable as your visibility will be reduced.
Typically, these are more durable goggles with soft seals that can take some wear and tear.
When Do You Need These?
Large swimming goggles are useful for outdoor swimming as they are exceptionally comfortable and have great visibility.
If the nose is covered as well, then this is known as a 'swimming mask'.
Although some swimmers do select swimming masks (where the nose is also enclosed), swim masks are mainly used by divers and snorkelers only, as swimmers like their nose free to breathe.
2 – Do The "Suction Test" To Get The Right Fit
For a pair of goggles to fit correctly and function well, they must form an airtight seal around your eyes and prevent water from leaking in.
The soft gasket material forms this air-tight seal around the google lens.
To complete the "suction test" and ensure your chosen goggles will work for you, gently press the goggles onto your face. If you feel slight suction from the goggle cups (for about a millisecond they might stick onto your face without being held), then you know they will form a watertight seal and will work.
Many people believe it is the goggle straps that keep the goggles on the face and in place, but in fact, it is the light suction of the goggle cup itself. A slight suction shows that a seal will form, and water will not easily get in.
This is a great way to check goggles before you try them. If you can't feel any light suction, then you can return them with confidence, as you know for sure that they won't work for you.
Gentle and light suction is typically the best to strive for, as the goggles will be a good enough fit to work well, but will not be uncomfortable.
3 – Choose A Comfortable Pair Of Goggles
There are some key indicators that will let you know how comfortable a pair of goggles will be before you ever purchase them or try them on.
3.1 – The Size Of The Cups
Small goggle cups are typically seen at competition and race meets. They are small to reduce drag in the water.
For many beginners, these racing goggles with small cups are very attractive as they look so cool. However, they have a downside.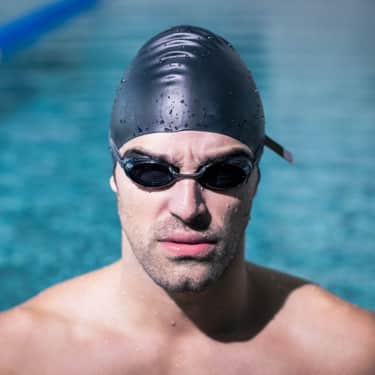 The size of the goggle cup is often so small, it will sit directly on the eyeball and not on the surrounding skull area where there is bone to counteract the pressure.
The high pressure of the small goggle cups on the soft eyeball region is sore and painful. They are great for short races and competitions. However, if you are looking for a comfortable pair of goggles for longer swims, these would not be a good pick.
3.2 – The Gasket Material
The gasket material, and how soft it is, will greatly help with comfort.
One of my favourite pairs of goggles is the Speedo Unisex's Futura Biofuse Flexiseal Swimming Goggles.
Below shows an image of these goggles. You will see a wide and soft plastic seal around the goggle lens. This gasket around the lens has enough surface area to create a great seal but is soft and flexible, which makes these goggles really comfortable to wear for longer swim workouts.
Some of the cheaper goggles will use hard plastic gaskets that will not seal well and will feel uncomfortable to wear.
3.3 – Split Straps
Goggle straps are useful to keep the goggles in place while diving or doing wall turns.
Even if you are not doing such dynamic moves, a comfortable strap will increase your fun in the pool.
Personally, I prefer a split strap as per the Speedo Futura Goggles as I have shown previously, as I find they give a snug fit for a variety of head shapes.
In addition, if you have long hair, you keep up in a bun underneath your swim cap. The split straps are great as they can work around your hair, making your goggles feel comfortable.
Your goggle straps should feel secure and, in reality, you should not have to tinker with them. Once you get the right fit, they should stay unadjusted for the vast lifetime of your goggles.
4 – Choose Anti-Fog Goggles
If you want to see underwater, be it for recreation or fitness swimming, you will need anti-fog protection.
Goggles with anti-fog protection have a light coating on the inside of the goggle lens that will prevent the build-up of fog on your goggles.
Due to the temperature differential between your face and water, condensation will form on the inside of your goggles.
An anti-fog coating will prevent this from happening.
Most fitness goggles will have anti-fog protection as standard, but if you are looking for a great pair of goggles that work for you, double-check this. Otherwise, you will not be able to see a thing in the water!
5 – Pick The Right Colour Lens
Goggles are designed with different colour lenses to accommodate swimming in a variety of different light situations.
For example, goggles with a clear lens are best for visibility when swimming indoors. However, if you are swimming outdoors then a black or "smoke" colour lens might be better for your needs as this will reduce the amount of light exposure.
When trying to choose the best pair of goggles for you, consider where you will be swimming and what the lighting will be like.
What Colour Swimming Goggles Are Best?
There is no rule that any particular colour of swimming goggles is best, as it all depends on your swimming environment.
Below is a list of all the different coloured swimming lenses and when they are best to use:
| Google Lens Colour | When To Use |
| --- | --- |
| Clear Lens | Indoor use and low-light situations. |
| Blue Lens | Indoor pool use |
| Smoke Lens | Bright situations, such as a sunny pool or outdoor swimming in the sun |
| Yellow Lens | Good for a clear image in low-light situations, both indoors and outdoors. |
| Red Lens | Good for medium to low light conditions to enhance contrast |
| Mirrored Lens | Outdoor use in the sun to reduce brightness. |
Can I Get Prescription Swimming Goggles?
Most of the top swimming brands can supply prescription swimming goggles for an affordable price.
It can be an annoyance in the pool to have reduced visibility, and getting a pair of prescription swimming goggles can help you feel more confident and comfortable.
Typically, most manufacturers will provide prescription lenses ranging from 1.5 to 8.0 for around £25.
Here is a link to the prescription goggle range from Speedo.
How Do I Know What Size Swim Goggles To Get When Buying Online?
I have fallen into the trap of buying goggles online, only to find they are useless for me.
The worst fit goggles I ever had were a pair of Speedo Female Fit Goggles, "designed specifically for the female face".
In hindsight, I should have known better: gender has nothing to do with goggle fit or size.
I assumed that "female fit" meant "suited for a smaller face" but nothing could have been further from the truth. I fell right into the marketing trap with that one!
In fact, these "female fit" goggles have really large lenses, great for broad, long and large faces, whatever the gender.
How To Check Goggle Size When Shopping Online:
1 – Measure Your Face
Occasionally, a manufacturer will print the actual length, width and depth of the goggles.
Measure the following dimensions from your face using a ruler or measuring tape:
width of your head
distance between the middle of the eyebrow to the top of the cheekbone
Now you can compare the length to see if the size of the goggles will work for you.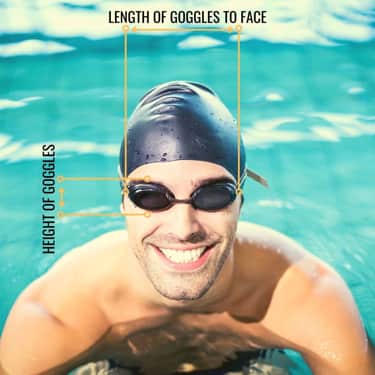 2 – Ask The Manufacturer Questions
A good manufacturer will answer questions on your goggles. In the past, I have found Zoggs and Speedo excellent at answering and recommending goggles.
For example, you can find out if the goggles are suitable for a small face, or have anti-fog properties or if the lens colour is suitable for your swimming environment.
3 – Pick A Supplier That Accepts Returns
If you are buying goggles online, ensure you pick a supplier that accepts returns.
At the very least, keep all the packaging and care for the goggles until you have decided whether you are keeping them.
If the goggles show signs of wear and are not in their original packaging, it is unlikely any supplier will accept them as a return.
Are Polarised Goggles Better?
As you are searching for goggles, you might spot the term "polarised goggles".
Polarised goggles are great for swimming in sunny environments. They have a film on the goggle lens to stop sunlight rays from entering your eye directly, which will reduce glare.
Just because a lens is black or is a "smoke" colour, do not assume that they are polarised. You should check the packaging to ensure that it states the goggles are polarised.
If you are swimming in an outdoor sunny environment, then polarised goggles are the best option.
To learn more about polarised goggles and if you should invest in a pair, I have covered polarised goggles in greater depth in the following article:
The Best Swimming Goggles
Here are my top picks for the best goggles for comfortable swimming of laps.
Excellent seal

Very comfortable
Anti-fog
Multiple lens colours available
Price Range: £16
Great for racing
Comfortable, but if you have a big face, these might be uncomfortable as racing goggles are small and might sit on your eyeball.
Price Range: £32
Polarised lens
Great fit
Very comfortable
Multiple lens colours available
Price Range: £22-£55
Designed for smaller faces
Plexisol lens
Scratch-resistant coating
Multiple lens colours available
Price Range: £18
Great vision
Adjustable nose bridge for a good fit
Very comfortable
Price Range: £30