Swimming in the sun or outdoors is a wonderful experience, but sometimes the intense sunlight and higher water glare can cause eyestrain and general discomfort. I hate having to constantly "squint" when swimming in the sun or being near the water on a sunny day, but you can fix this problem easily by using polarised lenses.
Polarised swim goggles are specifically designed to reduce glare, particularly from the sun reflecting on smooth or very reflective surfaces, such as water.
In this article, I will explore:
Are polarised goggles for everybody?
What is glare?
How do polarised lenses work?
UV blocking and polarisation – are they the same thing?
What is the difference between polarised and mirrored goggles?
Are polarised swim goggles better?
What are the best polarised swim goggles?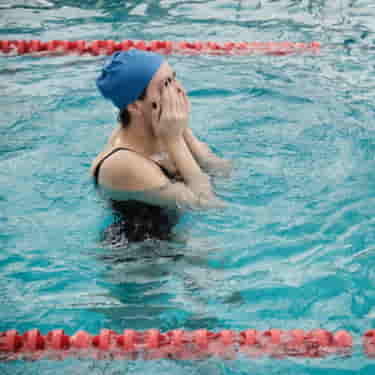 I first discovered polarised lenses when I started driving. As I don't wear glasses, I knew very little about eyewear. I found it really hard to drive on a sunny day, just after it rained as the sun would reflect off the road and cause glare.
My sister quickly pointed out that wearing a pair of polarised sunglasses would fix this problem.
Of course, polarised lenses are not just limited to sunglasses and can be found in swimming goggles as well. They are wonderful to wear when swimming outdoors or in pools where there is a lot of sunlight as they have the following benefits:
reduce glare
reduce eye strain
increase visibility
reduce eye squinting.
Are Polarised Goggles for Everybody?
Polarised goggles are suitable for everyone.
If you suffer from a lot of eyestrain in the sun or hate the dazzling glare from sunlight on water, polarised goggles solve this.
What Is Glare?
Glare from the sun is particularly a problem around water or flat surfaces.
Glare is strong or dazzling light.
When sunlight hits a rough surface, it reflects at many angles. However, when it reflects on a smooth surface, such as water, it reflects at one angle.
This causes a high light intensity and produces "glare".
When you look at this high-intensity light, you may find it dazzling or too bright. Without polarising sunglasses or polarising swim goggles, you may have to squint or shade your eyes to see well.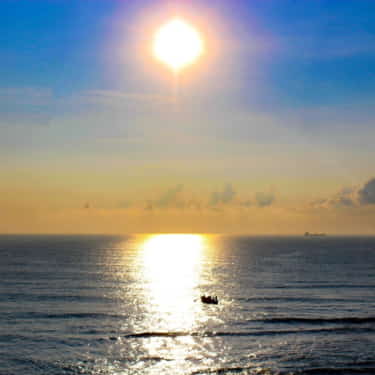 How Do Polarised Lenses Work?
As a general rule, polarised lenses work by filtering light.
A chemical film is coated onto the lens surface. This chemical coating has a molecular structure that allows only vertical light rays from getting through. All horizontal light rays are blocked.
This reduces the number of light reflections entering the eye and, as a result, the amount of glare.
Because there are fewer reflections getting through, polarised lenses will reduce the brightness.
On a bright sunny day, this is perfect. However, if you are swimming on an overcast, dull day, the goggles will make everything just that bit darker.
This is why I have two pairs of goggles in my swim bag for when I swim outdoors. One pair is a dark polarised pair of goggles for those bright sunny days and the other pair is clear glass, for when the weather is a bit duller.
Therefore, whatever the sun is doing, I am prepared.
The following image from Swans, demonstrates the effect of polarised goggles beautifully.
The image on the left is with the naked eye. The middle image is how the water looks through a mirrored lens and the image on the right is how the water looks through a polarised lens.
With the polarised lens, there is less glare and we have better visibility in the water.

UV Blocking and Polarisation – Are They The Same Thing?
UV blocking goggles and polarised goggles are two different things.
In order to buy polarised goggles, they must have a polarised label on them or state they are polarised lenses.
A lot of goggles will offer UV protection, which will block the harmful UV rays from the sun, but they will not be polarised and will still be susceptible to glare.
Therefore, if you are looking for polarised goggles, ensure they state "polarised" specifically (or "polarized" in the US).
What Is The Difference Between Polarised And Mirrored Goggles?
Mirrored goggles look very cool and are also useful for dealing with sun and water glare conditions.
Mirrored goggles reflect sunlight away from your eyes, while polarised goggles filter light getting through to your eyes. Both are good ways of dealing with glare from water surfaces.
As mirrored goggles reflect sunlight away from your eyes, on overcast or duller days, they can become overly dark.
Polarised goggles will also be a little darker on overcast days, but not to the same level.
From my experience and according to Swans, the manufacturer who originally introduced polarised swim goggles over a decade ago, there are different light conditions for which mirrored and polarised swim goggles have their advantages.
For example, on bright sunny days when the sun is very high overhead in the sky, there will be little glare from the water. In this situation, mirrored swim goggles will be most effective.
In weather conditions where the sun is dazzling and reflecting on many surfaces, creating glare, then polarised goggles work best as they work by filtering these sun reflections.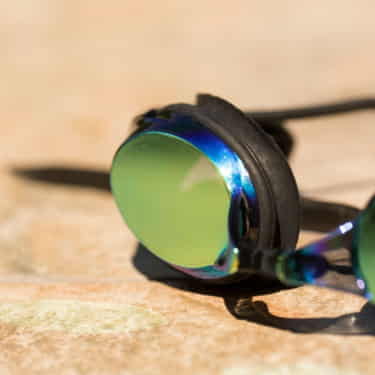 Are Polarised Swim Goggles Better?
Polarised goggles are better for sunlight conditions where there is a lot of sunlight reflections and glare.
From my own experience, I have found polarised goggles more useful. Living in the UK, we don't have many days of high sun. Most bright sunny days come with lots of low sun, wet surfaces and glare.
As a result, polarised goggles are generally more effective overall for these conditions.
Like all swim goggles that have different lens colours, they are designed to help certain light conditions and visibility.
Polarised swim goggles are the best for glare when there are lots of reflections from the water surface.
What Are The Best Polarised Swim Goggles?
Here are some of the best-polarised swim goggles to reduce glare and help with eye strain when swimming in a very bright swim environment.
Not all polarised goggles are made equal, with some polarised goggles being more efficient at filtering light and handling glare.
When selecting polarised goggles, ensure you pick the goggle option lens that is polarised.
For example, all the goggles below have polarised and non-polarised options.
Polarised coating to reduce glare
Very very comfortabe!
Good for small faces
Price Range: $25 – $30
Polarised coating to reduce glare
Very affordable
Anti-fog
Price Range: $20 – $25
Polarised coating to reduce glare
Soft sealing gasket
Anti-fog
Price Range: $30 – $70
Polarised coating to reduce glare
Good for triathlon
Anti-fog
Price Range: $20 – $25
Polarised coating to reduce glare
Very comfortabe
Budget price
Price Range: $25 – $30
Related Articles: