Buying new swimming goggles can be very frustrating, as finding a good fit can feel like an impossible task. 
Although trying your goggles on before you buy them is always recommended, this is rarely possible in reality, as many swimmers buy goggles online where there is no opportunity to try them before you buy.
But even for those swimmers who make the effort to get to a sports store, most goggles are so well packaged that it is not possible to try them on. 
As a general rule, buy a pair of anti-fog, split strap goggles, with an adjustable nose bridge, which are well reviewed online from a retailer that allows refunds. Ensure the goggles create a slight suction when placed against your face.  
I have purchased many swimming goggles that did not fit well. From these failures, I have become really good at knowing what will fit my face from just an image of the goggles.
In addition, I have learned how to test the goggles without getting them wet, so if I am not happy, then I can still return them.
In this article I want to share what I have learned about buying swimming goggles when there is no opportunity to try them on first, covering:
How do you determine swim goggles' size?
How to check swimming goggle fit without getting wet. 
Are all swimming goggles the same size?
What are some good all-around goggles?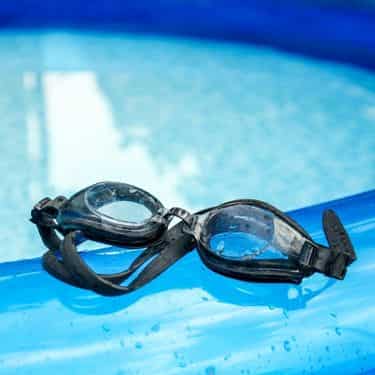 How Do You Determine Swim Goggles Size?
When buying swimming goggles online, you must make a judgment on fit, just from an image, some basic specifications, and other user reviews.
Some goggle models will come in a small or large size. 
Generally, swimming goggles with a "small size" are good for adults with smaller or narrow faces. Goggles with a "large size" are good for adults with a broad face. 
Most goggles on the market do not specify a size as they are typically "one size" and "unisex".
In addition, the dimensions of the actual goggles are rarely found, so it is not possible to measure your face and match it with a pair of goggles. (I really wish that swimming goggle manufacturers would do this!)
When you find a pair of goggles that you like the look of, but you are unsure if they will work for you, here are some goggle features to watch out for to help you decide on fit
1. Lens Height
When I am buying a pair of goggles online, the first thing I look at is the height of the goggle lens.
For me, I have a smaller face, therefore I dislike goggles that have a particularly bulky or tall lens height.
If you have a larger and broad face, then there is a greater probability that more goggle varieties with a tall lens height will work for you, so you can be more accommodating and pick a pair of goggles that you like the look of.
If you have a narrow or small face, ensure that the goggle lens does not look too tall.
2. Lens Shape
The shape of a goggle lens will affect visibility.
A large lens will allow a greater field of view.
If you are swimming laps, then you may not be too concerned about a wide field of view, as you will be mostly keeping your head down and looking at the pool floor.
With this type of lane swimming, a low profile lens shape can be excellent, as they do not stick out too much from your face and are streamlined. For example, the Aqua Sphere Unisex Xceed Swimming Goggle or the Speedo Fastskin Speedsocket.
If you prefer a greater field of vision, then selecting a pair of swimming goggles that have a wider and larger lens will be better for you.
3. Lens Colour
Swimming goggles come in a range of lens colours.
Each colour lens is designed for a specific level of light when swimming.
For example, if you swim in a dark indoor pool, then a lens with a clear colour is best for visibility.
On the other hand, if you swim outdoors or in a very bright environment, then a smoke lens or a mirror effect is best.
The following table details an overview of swimming goggle lens colour and the best swimming conditions for each colour lens.
| Lens Colour | Swimming Light Conditions |
| --- | --- |
| Clear Lens | Indoor use and low-light situations. |
| Blue Lens | Indoor pool use. |
| Smoke Lens | Bright situations, such as a sunny pool or outdoor swimming in the sun |
| Yellow Lens | Good for a clear image in low-light situations, both indoors and outdoors. |
| Red Lens | Good for medium to low light conditions to enhance contrast. |
| Mirrored Lens | Outdoor use in the sun to reduce brightness. |
This Table Shows Swimming Goggle Lens Colours And Their Applications
For outdoor swimming or swimming in bright sunlight, consider polarised goggles or mirror goggles.
Polarised goggles filter the light entering your eye, reducing glare.
Mirror swim goggles reflect light away from the eye, reducing glare, but not as effectively as polarised goggles.
To learn more about polarised and mirror swim goggles, I have covered this in greater detail in this article, What Are Polarised Swim Goggles?
4. Gasket Material
Around the edge of the goggle lens is the gasket material.
The gasket material of a goggle can have a big impact on comfort and how well the goggles keep water out.
The most common types of swimming goggle gasket material are:
Foam
Soft Flexible Plastic (usually silicone)
Personally, I stay away from swimming goggles with a foam gasket as I have found them to degrade quickly, and they become overly saturated in the water with poor leak prevention.
Take a look at the gasket seal when buying goggles. As a general rule, if the gasket seal looks large it will most likely work well and be comfortable.
This is because a larger gasket has the space to accommodate different face shapes, and a larger gasket means that a greater surface area is in contact with your face.
This will improve the chances of a more comfortable all-around fit and reduce the risk of leakage.
An example of a pair of goggles with a large and comfortable gasket is the Speedo Unisex Futura Biofuse Flexiseal.
5. Nose Bridge
Some goggles come with an adjustable nose bridge.
If you are looking for a custom fit, then this is a great way to get a perfect pair of goggles, as you can adjust the spacing between each lens to ensure good placement of the goggles on your face.
The vast majority of swimming goggles do not have an adjustable nose bridge; therefore, it is best to ensure that they specify an adjustable nose bridge in the product description when buying.
If you have ever struggled with the lens spacing or fit around your nose, then an adjustable nose bridge is a great option to consider.
6. Strap
Goggle straps are often overlooked, but there are different varieties of goggle straps on the market.
My favourite type of goggle strap is a "split strap". This is a regular strap that splits towards the rear as per the image below.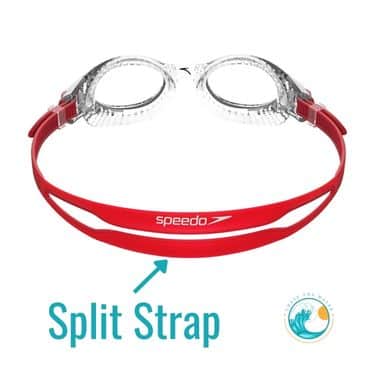 This has the advantage of keeping the goggles in a better position when diving or doing flip turns.
It is also great if you have long hair and have a ponytail or bun that is usually in the way of your goggle straps.
It is important to note that it is not the goggles straps that keep the goggles on your face. The suction of the gasket and lens keeps your goggles in position.
The straps are an extra form of security to hold your goggles in place as you swim. They should not be too tight, as you will create marks around your eyes. To learn more about goggles leaving marks around your eyes, I have covered this in greater detail in this article, Can Swim Goggles Give You Bags Under Your Eyes?
7. Anti-Fog
If you are buying swimming goggles, ensure they have an anti-fog lens.
When your warm face touches the colder water, your swimming goggles will fog up. It is like starting your car engine on a cold day; the inside of your windscreen will fog up because of temperature differentials.
A good pair of swimming goggles will have anti-fog protection. This is where a thin transparent coating is placed on the inside of the lens to reduce fog.
I have found that anti-fog goggles may still fog up for the first few seconds of your swim, but the fog will quickly disappear.
Having foggy goggles is annoying and will interrupt your swim.
For you to be happy with your goggles, ensure that they are anti-fog. They will specify this in the product description. If anti-fog is not listed in the product description, then assume that they do not have fog protection.
8. Brand
I am not a brand snob, but when it comes to swimming, certain brands are leaders for a reason.
Speedo, Aqua Sphere and Zoggs are all very reliable brands for buying goggles online.
Even the cheapest Speedo goggles are very well manufactured, but cheaper goggles do not have the extra features such as anti-fog protection, which is essential in my opinion.
By sticking to a well-respected swimming brand, you know that the quality of the goggles should be good. In other words, the straps, gasket material and materials used will be strong and durable.
In addition, I have found that returning goggles to major brands is easier. I have great experiences, with Speedo in particular, who are very accommodating when it comes to customer questions and refunds.
9. Retailer Refund
Buying goggles online that you have never tried is always a risk.
To minimise this risk, always check the retailer's refund policy to ensure you can return the goggles if you are unhappy.
Double-check exactly what their product refund policy is.
How To Check Swimming Goggle Fit Without Getting Wet? 
Once you receive your swimming goggles, you will need to physically check the fit. 
This can be done on dry land, so there is no need to get the goggles wet, which generally voids any return policy. 
Here is how you check your swimming goggle fit before getting in the water:
Do not put the goggle strap on, let it hang loose.
With the straps hanging loose, gently press the goggles onto your face.
You should feel a slight suction from the goggles and they should remain in place on your face, (without straps or any assistance), for a second or so.
If your new swimming goggles "stick" to your face for a second or so, with no holding or aid from the straps, then this tells us that the goggle gasket can create an air seal and will prevent leakage.
If you do not experience any suction from the goggle lens and you cannot get them to stick to your face for a second, then this tells us that the goggle gasket is not creating a seal with your face and your goggles will let water in.
The longer you can get your goggles to stick to your face unaided, the better. I aim for at least two seconds personally, but there is no general guideline.
Some goggles will stick on a swimmer's face for many seconds if they are a really excellent fit.
If you do not experience any suction from a goggle lens on dry land, then I recommend packing them up and returning them.
Without this suction, you will resort to tightening your goggle strap to keep water out, which is not good. You will most likely have goggles that will let water in and leave strong marks around your eyes after your swim.
Are All Swimming Goggles The Same Size?
Swimming goggles come in different sizes and shapes. This makes purchasing swimming goggles online very difficult to get right the first time.
Although some swimming goggles have size variations, such as small and large, the vast majority of swimming goggles are one size. 
Some swimming goggles are designed for certain face types, for example, goggles that are designed for smaller faces or female fit goggles. 
From my experience, I have found the swimming goggles that are designed for smaller faces to be excellent, particularly these swimming goggles.
Outside of one size, small and large, there are limited options for goggle size.
Some swimmers like Swedish goggles, or Swedes, which are fully adjustable goggles. These goggles need to be assembled when you purchase them, so they create a fully custom fit.
Swedish goggles do not have a gasket around the lens, as the lens sits fully on the eyeball.
What Are Some Good All-Round Goggles?
As you try more and more goggles, a time will come when you will find the perfect fit and you will probably swim with those goggles for the rest of your swimming days. 
This is why many experienced swimmers will buy multiple swimming goggles when they find the perfect pair, just in case their favourite swimming goggles are ever taken off the market in the future.
While you search for your perfect pair, I have found the following goggles excellent for a generic "one size" fit. 
If you want a good pair of swimming goggles, these will generally do a good job for most swimmers.
I have written a detailed review of these goggles. If you want to learn more about how they perform, check out my detailed review here, Speedo Biofuse Goggle Review (Are they any good?)
Final Thoughts
It can be very difficult to find a great pair of swimming goggles, and from my experience, sometimes you have to try a few types before understanding what really works for you.
If you currently have a pair of swimming goggles you are not 100% happy with, then ask yourself what you dislike about your current goggles.
By identifying what you don't like about a pair of goggles, you highlight what is important for you.
For example, I hate goggles that fog up and feel big and bulky on my face. This tells me I need to stick to anti-fog, low-profile goggles designed for smaller faces to be happy.
It can be a tough journey in the quest to find good goggles that work for you, but it is well worth it. A great pair of swimming goggles can result in a great swim.
Happy swimming!