In the UK, we have a big variety of historic lido pools which are open to the public. Many of them are heated and have lots of extra facilities.
Lido swimming is swimming in a public outdoor pool. It is a wonderful experience and one I recommend you try at least once in your swimming life.
Lido swimming is a great way to get in shape and have fun at the same time. However, there are a few things that are useful to know before you hit the pool.
In this article I want to share everything I have learned and recommend about lido swimming, covering:
What is a lido?
Why is an outdoor pool called a lido?
What is the difference between a lido and a swimming pool?
Are lido pools heated?
How big are lidos?
What are the benefits of lido swimming?
Is there chlorine in lidos?
Are lido pools clean?
How do I book a swim at a lido?
How much is a lido swim?
What should I bring to a lido?
Are lidos open all year round?
Can I swim in the rain?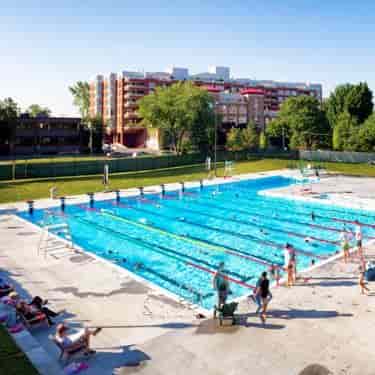 What Is A Lido?
A lido (pronounced lee-doe) is an outdoor swimming pool that is open to the public.
They are often large and have a variety of pool amenities, such as a diving board, slide, kiddie pool, a spectator's area, and a café.
We find lido pools in many locations, such as parks, recreation centres, at the seaside and even in city centres, as there are many to be found in the London region.
Why Is An Outdoor Pool Called A Lido?
One theory is that the word "lido" comes from the Italian word "lido," which means beach. It's thought that they created the first lido pools in Italy in the early 1900s, and they were often located on or next to beaches.
The word "lido" eventually made its way to the UK, where it became associated with outdoor swimming pools.
What Is The Difference Between A Lido And A Swimming Pool?
In the United Kingdom, a lido is a public outdoor swimming pool, but a regular indoor pool is referred to as simply a swimming pool.
A lido is an outdoor swimming pool that is open to the public. They are often large and have a variety of pool amenities, such as a diving board, slide, loungers, a coffee shop, and a kiddie pool.
Swimming pools can come in all shapes and sizes, but the term is typically used to refer to any indoor or outdoor pool that is used for swimming. Unlike lidos, swimming pools can be private or public, and they may not have all the same amenities.
Are Lido Pools Heated?
Some lidos pools are heated, but many lido pools are cold water.
Before visiting a lido, it is important to check if the water is heated or not.
An outdoor pool that is unheated, even in the summer, can feel exceptionally cold to those who are not accustomed to the colder temperature.
This summer, in the July heat, I visited an unheated lido in the east of the UK. It was a glorious summer morning, and I entered the pool at 8 am.
Despite it being summer in the UK, the water temperature was 15°C (59°F). This is cold. In fact, any water temperature that is less than 21°C (70°F) should be treated with caution according to the National Centre For Cold Water Safety. [source]
If you plan to visit an unheated lido, I recommend that prepare for cold water shock.
This can be dangerous, so it is important to learn about what cold water shock is and what to expect.
As this is so important, I have covered this topic in much greater detail in this article, Swimming In Cold Water (What to expect as a beginner)
How Big Are Lidos?
There is not a specific size for a lido, as they can vary in length, depth and design dramatically.
Typically, most lidos in the UK are large and are often 50m in length and 25m wide, which is the size of an Olympic swimming pool.
These larger lidos are fantastic to swim in, as there is usually lots of room.
What Are The Benefits Of Lido Swimming?
There are many benefits to lido swimming, including the following:
1. Large Size
Lidos are usually very large, so there is plenty of space for swimming laps or just floating around.
2. Open Air
The pool is open to the air, so you can enjoy the sun and fresh air while you swim.
3. Less Crowded
From my experience, I have found that lidos are usually less crowded than indoor pools, so you can have a more relaxing swim.
Perhaps this is because the pools are often much larger, or perhaps since they are often more expensive, the pool is less crowded.
3. Temperature Control
Swimming in an outdoor pool is a great way to cool off on a hot day.
Is There Chlorine In Lidos?
Just like indoor public swimming pools, outdoor freshwater lido pools are treated with chlorine.
Chlorine is really important to kill bacteria and germs in the pool, maintaining a healthy pool.
If you dislike chlorine, I have found that chlorine removal products work really well such as chlorine removal shampoos and chlorine removal body wash.
To learn more about chlorine removal products, I have covered this in greater detail in this article, Do Chlorine Removal Shampoos Work? (A hairdresser weighs in)
Are Lido Pools Clean?
From my experience, the lidos I have visited in the UK have been very clean.
Outdoor swimming pools can get a bad reputation, but this is because we only ever hear about the occasional horror story.
Most lidos will have reviews from other swimmers on TripAdvisor. Just pop in the lido's name and other swimmer reviews will come up, giving you an indication of quality.
It is important for any swimmer to know how to tell when a pool is clean. If you are interested in learning how to tell if a public pool is clean, I have created a checklist in this article, How To Know If Public Pool Water Is Clean (A step-by-step checklist)
How Do I Book A Swim At A Lido?
Most lidos have an online booking system. Alternatively, you can turn up and pay on the day; however, every lido I have visited does not recommend this to avoid disappointment.
Every good lido pool will have a website and phone number, so you can either book online or call to book before you swim.
How Much Is A Lido Swim?
A lido swim costs a little more than an indoor public pool swim.
In the UK, lido swims typically range in price from £6.50 to £10 and can range from 3 to 5 hours in the pool. There are often discounts for kids and groups.
Compared to indoor public pool swims which generally cost between £4 and £5 for an adult, this higher lido swim cost may seem very expensive, however, you generally get a much bigger pool and outdoor seating area for the extra cost, including the novelty of swimming outdoors in a pool.
What Should I Bring To A Lido?
There are a few things you should bring to a lido, including the following:
A swimsuit
A towel
Sunscreen
A swim cap (optional)
Goggles (optional)
Water shoes (optional)
When going for a lido swim, I recommend you treat it like visiting the beach.
It is important that you remember sunscreen as you will be exposed to the sun.
In addition, darker colour swimming goggle lens, such as smoke or mirror, or polarised swimming goggles are best for outdoor pool swimming.
Polarised or mirror swim goggles will reduce the amount of glare coming from the water.
I once made the mistake of taking my clear-coloured swim goggles to the lido on a sunny day, which was very uncomfortable for my eyes, as it was just too bright for me.
Are Lidos Open All Year Round?
Most lidos, particularly cold water lidos, are seasonal and will close for the winter months.
Heated lidos are far more versatile in their opening times and can stay open all year round. It is best to check with your local lido to find out if they remain open all year round as it depends on the lido.
Can I Swim In The Rain?
Lidos will remain open in the rain and will only close if there are thunderstorms or very bad weather conditions that endanger life.
Typically, if there is a thunderstorm within 5 miles of a lido, the lido will close to reduce the risks from a lightning strike.
Final Thoughts
Public lidos offer an affordable and convenient option for swimming outdoors. They are typically very clean, have a good reputation, and most have online booking systems.
Lido swims can be more expensive than indoor public pool swims, but you often get a much bigger pool and outdoor seating area for the extra cost.
In addition to bringing sunscreen, I recommend you treat a lido visit like going to the beach- remember to bring water shoes, goggles that protect from the sun, and a towel.
Some lidos close during the winter months, so it is best to check with your local lido before heading out. Lidos will remain open in the rain unless there are bad weather conditions that endanger life.
Lido swimming is a wonderful experience and I recommend you give it a go at least once to get the experience.
In addition, the vast majority of lidos in the UK are often very old and Grade II listed. It's fascinating to visit these pools and imagine all the swimmers that have passed through during history.
Happy swimming!