Love or hate them, the classic Speedos have been with us for many years and play an important role in the swimming community.
Speedos is another name for tight male swimming briefs. Speedo is actually a brand name and coined the term "Speedos" to describe their swim brief product line, which was essentially underwear that could be swum in when first developed.
In the UK, tight swimming briefs, aka "Speedos", are the most hated item of clothing amongst those surveyed in a YouGov poll. [source]
Yet, the Speedos are excellent swimwear for men, particularly serious swimmers, and are an essential item of swimwear to have in your swim bag. They are sticking around for a reason!
In this article I want to look at:
What are Speedos?
Where are Speedos most popular?
Why are Speedos banned in some locations?

When did Olympic swimmers stop wearing Speedos?

Why do Olympic divers still wear Speedos?
How to take care of your Speedos
What are some alternatives to Speedos?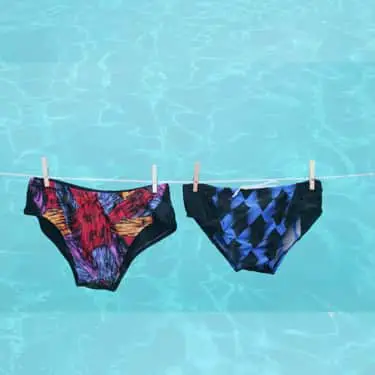 What Are Speedos?
"Speedos" is another name for tight male swim briefs.
Speedos aren't actually the name of the swim briefs themselves, but a company called "Speedo": the Speedo brand merely popularised swim briefs to the point where the names became synonymous.
Alexander MacRae, a Scottish immigrant living in Sydney, Australia, established the brand in 1914.
The brand was initially named Fortitude, and mainly produced and sold underwear as opposed to swimwear; in fact, the company didn't begin manufacturing swimwear until 13 years later in 1927.
The name "Speedo" came about when the company held a competition among its workers to come up with a slogan for their new product line: a line of "swim-briefs" which were essentially underwear that could be swum in.
The winner, Captain Parsonson, won the contest with "Speed on in your Speedos", which would later be adopted as the company's new name. [source]
The Speedo brand and their products were the subjects of much controversy at the time, due to them showing a lot of the wearer's skin.
Where Are Speedos Most Popular?
Speedos are popular in Australia, where they were first introduced. They have also gained popularity in Europe and the United States.
Currently, the Speedo is most popular in Brazil, with 95% of Brazilians approving of the skimpy briefs. [source]
In France, men are only allowed to wear Speedos, the classic tight-fitting swim brief style in public swimming pools as opposed to baggy or swimming trunks. This is for hygiene purposes. [source]
Speedos have now monopolised most swimwear markets across the world, with their own production lines in Australia, the UK, US.
Some of the biggest markets for the company include Brazil, Austria, Germany, Spain, and Russia, but the company operates in a total of 120 countries worldwide.
Why Are Speedos Banned In Some Locations?
By nature of having swim briefs that show a lot of skin and leave little to the imagination of onlookers, it's inevitable that Speedos have been banned in a variety of places across the world.
Public beaches often enforce bans on speedos, but this may only be at peak times or on certain days, such as weekends.
Waterparks or holiday resorts may also have bans on Speedos. Alton Towers, a theme park in Stoke-on-Trent, UK, banned Speedos in 2009, saying it was an "extreme measure… to prevent embarrassment among fellow members of the public and to maintain the family-friendly atmosphere at the resort".
On the flip side, many parks encourage visitors to wear speedos, as they are much safer for customers when enjoying rides such as water slides; the tight-fitting nature of the Speedos makes it far less likely for the briefs to snag on any part of the ride and makes the experience safer and more comfortable for guests.
When Did Olympic Swimmers Stop Wearing Speedos?
Olympians transitioned from Speedos, the classic swim brief style, to jammers and tech suits between the 1996 and 2000 Olympic games. [source]
At that time, they found the new compression jammers performed better in the water, giving swimmers a competitive edge.
By the year 2000, all Olympic swimmers had transitioned to more hydro-dynamic tech swimming suits, which created a well-streamlined body form in the water.
Why Do Olympic Divers Still Wear Speedos?
Many Olympic divers still prefer to wear Speedos because they provide good support and mobility. [source]
When completing the vast range of acrobatics and moves during a diving competition, it is essential that the diver has a full range of motion.
The tight-fitting swim briefs offer the most mobility and are the least restrictive swimwear on the market.
How To Take Care Of Your Speedos
As with any type of swimwear, it's important to take care of your Speedos properly.
Here are a few tips on how to keep them looking their best:
Hand wash them gently: Speedos should be hand washed gently with cold water after every swim.
Do not bleach: Speedos should not be bleached, as this can damage the fabric and cause it to fade.
Do not iron: Speedos should not be ironed, as this can also damage the fabric.
Dry them flat: Speedos should be dried flat, away from direct sunlight or heat.
What Are Some Alternatives To Speedos?
There are a few different options if you're looking for swimwear that is just as comfortable as the classic briefs, but less revealing:
Here are a few alternatives to consider:
Jammers: Jammers are tighter fitting, long leg swim briefs that provide more coverage than Speedos. If you are a serious swimmer and care about maintaining performance and speed, the jammers are the best alternative to the classic swim brief speedo.

Board shorts: Board shorts are designed for swimming, and they provide more coverage than Speedos. They are baggy and very casual.

Trunks: Trunks are similar to speedos, but they cover the legs and come in a variety of styles and colours.
Final Thoughts
From their controversial beginnings in the 1930s to today, there is no doubt that the class swim brief is here to stay.
A great tool for serious male swimmers, speedos have fantastic performance and comfort, which is why they have stuck around for this long.
Although it looked like the classic swim brief had lost its place in Olympic history in the 90s with the invention of the jammers, serious male swimmers, from amateurs to elites, still wear them every day in training as they offer excellent performance.
Speedos are here to stay.