The Speedo Teamster 2.0 backpack is one of the most popular swimming bags on the market. A top favourite amongst swimming competitors, I had to get one for myself to see what all the fuss was about.
It is large, with lots of storage, but how good is it for the recreational swimmer?
I have owned my Speedo Teamster 2.0 for several months now. It is not my main swimming bag as I prefer the compactness of the Speedo Duffel Bag (read my review here), however, for carrying lots of gear, it is a winner.
As swimmers, we all have very common priorities and questions when it comes to selecting a swim bag. Here is what I have found from using the Speedo Teamster 2.0.
How Big Is This Swim Bag?
This is the largest swim bag I have ever owned.
When full, the overall dimensions of this bag are 41cm x 30cm x 52cm (length x width x height)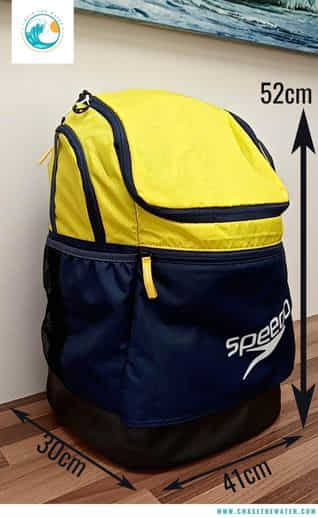 What Fits In This Swim Bag?
All your swim gear plus a change of swimming clothes will fit in this bag. This also includes training aids such as kickboards and training fins.
This is one of the main reasons the Speedo Teamster 2.0 is so popular with competitive swimmers; they can carry all their swimming gear and more to their swimming meets in just one bag.
This swimming bag is not just for competitive swimmers. I consider myself a recreational swimmer and I use this swimming bag when I need to bring lots of gear, including a change of clothes and training aids to the pool.
The Speedo Teamster 2.0 is a giant among swimming bags.
Is It Waterproof?
This swim bag is made from water-resistant material. It is not waterproof. In other words, if you fill this bag with swim gear and throw it in the pool, it will not keep the water out.
Unbelievably, this swimming bag does not have a waterproof inner pouch. For swimmers, it is important to have somewhere to store our wet swimsuits. Although this swimming bag has separate internal compartments, they are not waterproof.
Therefore, if you place your wet swimsuit into this bag in any of the compartments, it will leak all over your other gear unless you wrap it in a towel or put it in a wet bag. Given the high cost of this bag, I am very disappointed with this.
In comparison, the Speedo Duffel Bag has an internal waterproof pouch for storing your wet swimsuit. You can see what this looks like in this review here.
Is The Material High Quality?
The material of this swimming bag feels excellent. It is made from Polyester and has a really tiny diamond pattern which gives it a great look.
The material feels durable and the straps and back padding are nicely done. Overall, this swim bag is a high-quality product.
How Many Pockets Does This Bag Have?
Lots of pockets can be really useful for storage. This swimming bag has lots of pockets!
This swimming bag has five external pockets, four of which have zips.
The side pocket without a zip is ideal for holding a water bottle, and you should never forget your water bottle! Read my article about Swimming Dehydration here.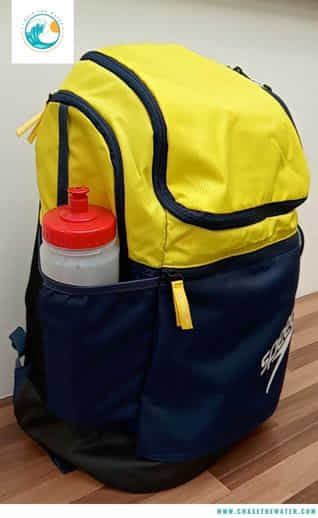 In addition, the side open pocket has an open mesh material. This is a good place to store wet swimming goggles or a wet swim hat so they can air dry naturally.
Here is an image of the inside of this bag. I have placed my large sized kickboard in this image to show just how large this bag actually is.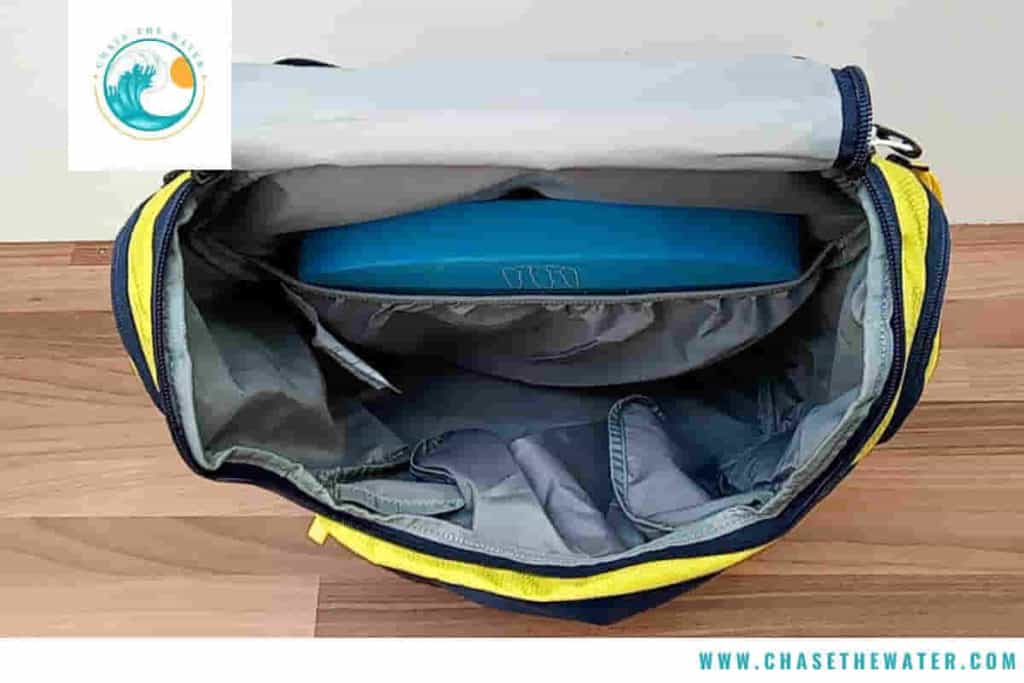 What Is Good About This Bag?
The biggest selling feature about this bag is the size. Everything fits in here. (Well, everything I need at least!)
I use this swimming bag when I want to bring all my training aids to the pool, as well as an extra set of clothes.
In addition, I like how the top of the bag opens. Normally, I stay away from backpacks as I dislike how everything is packed on top of each other. Personally, I prefer the Speedo Duffel Bag (review here), where all your items are laid out and you can see everything in one go.
However, due to the large opening, it is easy to find what you are looking for in this bag when in a hurry.
What Is Bad About This Bag?
I am really disappointed that this swimming bag does not have an internal waterproof compartment for storing wet swimming gear. I have to use a separate wet bag to store my swimming gear.
Take a look at my recommendations for wet bags in this article.
Otherwise, it is large, and great for carrying your swimming kit.
Would I Recommend These To My Best Friend?
If my best friend was looking for a large swimming bag for transporting a lot of swimming gear, then yes, I would recommend this swimming bag to my best friend.
For most recreational swimmers who want a more compact design, I feel that this swimming bag might be too big for them. That is just an opinion, however.
In general, this is a really good and quality product and it gets the thumbs up from me. I am keeping mine and will use it when I need to bring all my training aids to the pool.