While looking at swimming caps in a well known online swim store recently, I saw that the swim caps were divided into genders, i.e. swim caps for men and swim caps for women.
This got me thinking, is there a difference between swim caps for men and women?
As a general rule, swim caps are one size. This means that they are not designed specifically for men or women. Any reference to gender-specific swim caps is for marketing purposes only. Although there are different types of swim caps, for example, swimming caps for long hair, these are unisex. One size will fit all.
Alongside our swimsuits and goggles, swim caps are one of the most popular pieces of swim kit.
Given that swimming enthusiasts (like myself) speed hours trying different swimwear and goggles, so many of us overlook the importance of a good swim cap and how it can help us enjoy our swims more.
In this article I will cover:
Are there different size swim caps?
How do I know my swim cap size?
How do you pick the right size swim cap?
Is a "one size" swim cap better than a custom fit?
Do male swimmers wear swimming caps?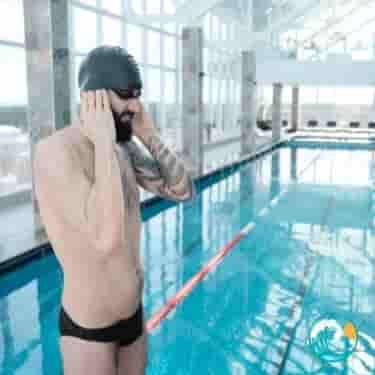 Are There Different Size Swim Caps?
Typically, the vast majority of swim caps come in one size, however, it is possible to find adult swim caps that have alternative sizes such as medium or large.
Swimming caps with alternative sizes tend to be swim caps that are for racing or swim hats that have thermal warming properties.
For example, the following racing swim hat from Arena has three different sizes: S (small), M (medium) and L (Large).
It is hard to know exactly what size to pick unless you check the manufacturer's supplied dimensions and measure the circumference of your own head to see what size you should pick.
Personally, I have avoided swimming caps with alternative sizes as they tend to be more specialised or expensive, such as racing caps or thermal caps.
Swimming Caps For Kids
Most swimming cap manufacturers will produce junior or kids' swimming caps.
Again, these tend to be unisex one size, but overall will be smaller than a general adult "one size"
How Do I Know My Swim Cap Size?
Despite some manufacturers providing alternative swim cap sizes such as small, medium or large, in general, there is not a standard swim cap size.
If you are interested in a particular swim cap that has alternative sizes, the manufacturer should provide a size chart.
For example, the following is a swim cap size chart from Arena (source)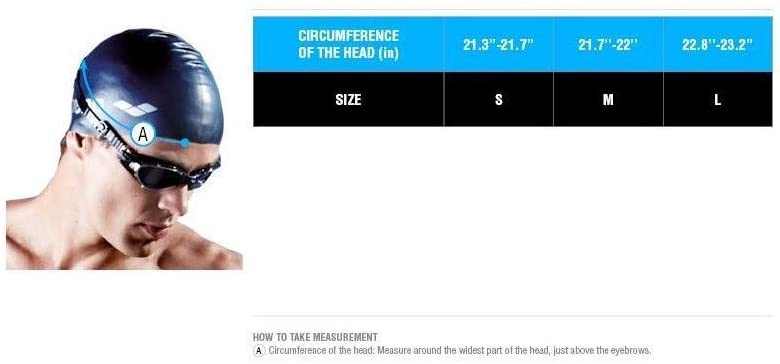 How Do You Pick The Right Size Swim Cap?
To work out your swim cap size, you need to measure the circumference of your head, which is around the widest part of the head, just above the eyebrows.
From this measurement, you can decide which size swim cap to choose by comparing the size of your head with the manufacturer's size chart.
It is important to point out that you should check the specific size chart for the swim cap you are buying (if it exists), as different manufacturers may have different sizes for their alternative swim cap sizes.
Is A "One Size" Swim Cap Better Than A Custom Fit?
It is hard to know exactly if a swim cap that comes in one size is better than a swim cap model that comes in different sizes, as it depends greatly on the comfort level of each swimmer.
Personally, I love the "one size" swim caps and have had no fit problems.
I have noticed poor reviews for swim caps that come in alternative sizes where swimmers complain the cap is either "too tight" or "too large".
For me, having a "one size" takes a lot of pain out of the shopping process as, for once, having less variety can be a good thing.
Do Male Swimmers Wear Swimming Caps?
I have often heard new swimmers ask if male swimmers wear swim caps.
To me, this is an odd question and what I think new swimmers are asking is, "do you have to wear a swim cap if you have short hair", as short or no hair is more common among male swimmers.
Although swimming caps are excellent for protecting your hair from chlorine and help keep the swimming pool water clean and free of floating hair, they are also worn by both male and female swimmers.
Swimming caps are also important in helping you swim faster. Even if you have minimal hair, a swimming cap will help shape your head and create a smooth surface which can improve your swim speed.
If you do have longer hair and are wondering if swimming caps actually keep your hair dry, I have covered this topic in greater detail in this article: Do Swim Caps Keep Hair Dry? (I tested it)
Recommended Swimming Cap
Best All-Round Swimming Cap
If you are looking for a good, all-round swimming cap then I recommend the Speedo Plain Moulded Silicone Swim Cap.
It is the basic silicone swimming cap from Speedo and works great. Fitting a wide variety of swimming styles and head sizes, this swimming cap will last for years.
I have replaced mine once after two of regular swimming and that was because I wanted it in a different colour!
One size to fit a range of head sizes
Soft and comfortable
Keeps the head streamlined
Best Long Hair Swimming Cap
If you have very long hair, I recommend the "long hair" swimming cap from Speedo. Similar to my favourite Speedo plain moulded silicone cap, it is just bigger with lots more room for long hair.
Extra-large with more room for hair
Unisex
Easy to fit
Long-lasting
Comfortable
Final Thoughts
Swimming caps are a necessary piece of equipment for all swimmers, from leisurely pool goers to competitive swimmers.
Typically, swim caps come in "one size", but some brands and models offer different sizes such as small, medium and large. Generally, "one size" usually fits most people comfortably.
Swimming caps are not designed to be gender specific. Any swimming hat you see advertised as "swimming hats for men" or "swimming hats for women" is just marketing. Typically, swimming hats are unisex and fit a variety of head sizes and shapes.
If you have long hair, a swimming cap can help keep it dry and out of your face while you swim.
Swimmers also wear swimming caps to create a more streamlined body position and a smooth head profile in order to help them cut through the water better and, as a result, to swim faster.
To learn more about swimming caps and how to wear them, the following article discusses the technical aspect of swimming caps in greater detail and answers that universal question: "Should Swim Caps Cover Your Ears? (The Pros & Cons )"
Happy swimming!