I learned to swim as an adult. My journey was a long one since in addition to not knowing how to swim I have a fear of deep water.
On my long journey of teaching myself to swim as an adult, I had a few "key breakout moments" that helped me to level up and took my swimming to the next stage.
One key breakout moment was discovering the "Total Immersion Swimming" Method.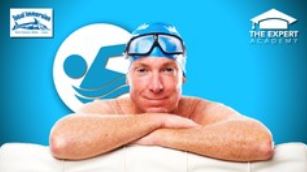 This is a wonderful swimming course that can teach any swimmer from novice to expert how to swim faster and further with less effort.
This course is not designed for the complete non-swimmer beginner, but for swimming novices who can swim 25 meters or can get from one end of the pool to the other safely (be it doggy paddle or breaststroke), then this course can help teach you to swim freestyle effortlessly and gracefully.
This teaching technique moves away from "traditional" swimming lessons where it is all about flapping your arms and survival and uses what it calls "fish-like" swimming, where you become more aware of your movement in the water, can propel yourself effortlessly in the water and achieve a beautiful swimming technique that feels effortless.
At first, I was dubious about learning to swim from online tuition or from a book, but the art of swimming is explained so beautifully in this course with clear drills and instructions that it becomes addictive. You just want to get to the pool to try them out.
This course has really changed my life. I have transformed from someone who would cling onto the pool wall terrified with zero kicking ability to a graceful long-distance swimmer.
If you want to learn to swim really well for a great price or take your swimming to the next level, unlocking that beautiful ability to move gracefully through the water, I recommend this course 100%. Truly enjoy the journey.