In 2020, when the pandemic hit and swimming pools around the world were closed, regular swimmers had to find alternative ways to swim.
In 2022, the cost of rising fuel costs around the world has forced many public pools to close or change operations, as large pools are too expensive to heat and run. Once again, regular swimmers must find a way to adapt. [source]
Because of this, both in the UK & USA, sales of above ground garden pools soared, with many swimmers realising that it was possible to set up a garden pool for training in their back yard that is less expensive than expected.
The setup cost of a garden pool will depend on the size and type of pool. For a simple above-ground steel frame pool suitable for adult tethered swimming, costs start at £320, which includes all the extras. For an endless pool system, prices range from £12000 up to £45000 for large training pools.
Garden pools come in many forms, from above-ground steel frame pools to in-ground pools.
In this article, I am going to look at the above-ground pool options that are suitable for a garden, covering the following:
Above ground pools versus in-ground pools.
The types of above ground garden pools.
What should you consider when choosing an above ground pool?
How much does it cost to set up a small garden pool?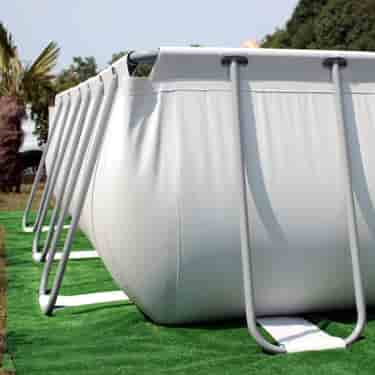 Above-Ground Pool Vs In-Ground Pool
When first deciding to place a pool in your garden, the very first choice you must make is deciding whether you want an above-ground or in-ground pool.
As the name implies, an above-ground pool sits on top of the ground, while an in-ground pool is built into the ground.
In-ground pools are significantly more expensive than above ground pools and can cost at least £20,000. Although it is possible to get pool kits for in-ground pools that a DIY enthusiast can build for around £10,000, you must excavate the earth, which can become very costly.
My dream was always to have a pool in my garden, but as in-ground pools are so expensive and involve so much building work to install, it is not an attractive option for me.
However, after discovering the benefits of an above-ground pool and all the advantages and cost savings associated with an above-ground pool, even if I won the lottery, I would still choose an above-ground pool.
As a swimmer, your primary objective is most likely to build a garden pool that you can train in. An above-ground pool can do this for a fraction of the cost, risk and hassle.
Above Ground Pool – An Overview Of The Pros & Cons
Above ground pools are the most cost effective solution to swimming in your garden, with costs starting from as little as £300 for a full solution.
They are easy to install with no trades people or builders required.
They can be installed and operational in a couple of hours.
Some above ground pools can be taken down for the winter, freeing up garden space and prolonging the life of the pool.
Above ground pools are much easier to fix if there is a leak as the liner is above ground and leaks are easy to reach and identify.
Can be made to look "built in" with decking and landscaping.
Perfect for swim training by using a swim tether.
If you move house, you can take your pool with you.
If you rent, it is a temporary solution that does not require any modifications to the property. (As long as the ground is OK to hold the weight of the pool).
May not look as beautiful as an in-ground pool, but you can landscape to help the pool fit with your garden.
In-ground Pool – The Pros & Cons
Typically, very expensive, which can incur lots of hidden building costs if not planned correctly.
We typically need experts to build and install the pool. Although if you are confident at DIY, you can get a pool kit for around £10,000, but you will need to excavate the ground and factor in tool and excavator hire. You should choose professionals from the Swimming Pool and Allied Trade Association to help you get your pool right and ensure they finish the pool to a high standard.
If it leaks or has problems, it can be very difficult to fix.
Lots of permanent decisions to be made – size, shape, location and pool finish to be decided. Once your pool is in place, it cannot be moved easily.
Some in-ground pools can have a hard cover so you can use your full garden space when the pool is not in use.
An in-ground pool can add value to the price of your property if you want to resell, however this is widely debated as it depends on the buyer. Some home buyers will see a pool as a liability and not a luxury, while in other parts of the world it can add value to a home. You need to ensure the percentage increase in house price is enough to justify the pool installation costs.
As mentioned in this article, I am focusing on above-ground pools for your garden. If you are interested in building an in-ground pool, this is an amazing article that covers everything you need to know about in-ground pools:
>> https://www.priceyourjob.co.uk/garden-swimming-pool-cost/
Types Of Above Ground Garden Pools
Typically, there are four main types of above-ground, easy to install garden pools:
Easy Set / Inflatable Above Ground Pool
Steel Frame Above Ground Pools
Resin or Metal Above Ground Pools
Endless Pool
All of these above-ground garden pools vary in cost and setup.
All of them are very easy to install and require very little knowledge and skill, except the endless pool that requires some additional assembly.
What Should You Consider When Choosing An Above Ground Pool?
The main things to consider when picking between your above ground pool options are:
Cost
Space available
Ground condition (your garden needs to be flat and support the weight of water)
Depth of the pool
1. Cost
The different types of above-ground pools all come with different initial costs.
Every pool that is suitable for swimming, from the inflatables to the large metal pools, will need basic running systems such as a filter system, chlorine system and an optional heater system.
Amazingly, there is not a massive cost difference between the accessories for each pool. For example, a filter for a steel frame pool will be similar in price to a resin pool if they are a similar size.
Typically, the size of the pool will determine the cost.
The exception is the endless pool, which has inbuilt jets to allow you to swim against the current.
Here is a comparison of the different types of above-ground pools, which are all similar in size.
| Pool Type | Pool Size (Length x Width x Depth) | Average Pool Cost Range |
| --- | --- | --- |
| Easy Set / Inflatable Pool | 3m x 0.76m | £50 – £70 |
| Steel Frame Pool | 3m x 2m x 0.75 | £150 -£190 |
| Resin / Metal Pool | 3.6m x 1.2m | £250 – £900 |
| Endless Pool | 4.2m x 2.1 x 1m | £12000 + |
(Note: The costs in this article are based on my purchases in 2021. With soaring global inflation, expect to see a slight increase as time passes).
2. Space Available
If you have a small garden, you will be limited in your options.
For example, you may have to stick to a rectangular steel frame pool as it optimises space in your garden. (I love steel frame pools, by the way)
Whatever type of above-ground pool you choose, you need to ensure it will fit in your garden.
3. Ground Condition
Water is really heavy. Even for the smallest steel frame pool, you can swim in, it will place a large load on your garden.
Therefore, you need to ensure your garden surface is hard and can support this weight.
Many people make the mistake of placing a large pool on a deck, only to find out that the pool weight is far too heavy for the deck to support it.
In addition, you need to ensure that the ground is flat and solid.
You need to check what the manufacturer recommends placing underneath your pool before you purchase, as this can be critical to how well your pool works.
For example, many people place sand underneath their above ground pool as this can be levelled flat. However, Intex does not recommend placing sand underneath their steel frame pools and will void the manufacturer's warranty if you do so.
4. Depth Of The Pool
The depth of the pool is important to consider before purchase.
If you have kids, you may not want a deep pool in order to reduce the risk of drowning.
If your plan is to use your above garden pool for doing lengths or stationary swimming with a tether, then you need to consider the minimum depth of water that you need to swim in.
In the UK, the average depth of the shallow end in most public pools is around 0.9m (3 feet). Most adults will find this depth good for swimming.
It is possible to swim in shallower water. I have covered this in greater detail in my article "Minimum Water Depth for Swimming – How much water do you need?"
How Much Does It Cost To Set Up A Small Garden Pool?
Before jumping into the detailed setup costs of a garden pool, it is worth pointing out that I am writing this article at a time when garden pool costs are soaring due to the pandemic and global supply shortages.
For example, my own pool heater pump has jumped in price by over £120 between June 2020 and June 2021. That is a 30% price increase. These prices are still in the right price range, but you might find a little variation due to the fluctuating prices right now.
Hopefully, these prices will come back down in the future!
As a general rule, building a small 3mx2m steel frame pool in your garden, including all the essentials, costs a total of £316. If you wish to add extras such as a solar cover or heater, this setup cost will increase to £635.
Full Costs & Inventory List For The Cheapest Garden Pool Setup
Final Thoughts
Setting up an above ground garden pool is a lot cheaper than I had first expected. Personally, I managed to keep my costs below £500, which included a pool heater to take the icy edge off my pool.
Once you have your ground flat and prepared, it is just a matter of picking your favourite type of pool and going for it.
For me personally, I was caught out by hidden extras such as pool nets and pool heaters, which I decided I needed.
The actual pool might be only £200, but you can add an extra £200 to your budget if you are buying filters and all the accessories that are essential to running a pool.
That is why I included my full above ground pool inventory in this article so you can see all the extra costs that are needed when setting up a garden pool. These extras are needed to keep the water clean and safe to swim in.
Once you get your pool set up, the next concern is how much it will cost you to run it.
As mentioned, how much it will cost you to run your pool depends on its size as larger pools require a larger volume of water to be filtered and possibly heated.
Pool running costs are a whole new topic that I have covered in more depth <here>, which included answering the all-important question, "How Much Does It Cost To Run A Pool Per Month?"
Although they are expensive and a luxury, for me my garden pool has been one of my best investments for my fitness and mental health.
Related Articles
To learn more about how you can swim in an above ground garden pool and the costs involved in heating a pool, you may find the following related articles of interest.