Choosing the perfect swim bag is essential for any swimmer. A good swim bag will be spacious enough to fit all of your gear, durable enough to withstand harsh pool chemicals and wet towels, and stylish enough to make you feel confident.
When choosing a swim bag, ensure it is large enough to store all your gear, is made from a material that can withstand regular water exposure, has a design you can easily pack, and ideally has compartments so you can keep your wet gear separate.
I have owned so many swim bags over my swimming life. After much trial and error, I have finally discovered what I like and why.
There are many swim-specific bags on the market and it's hard to know if it is worth the money to invest in a swim-specific bag or just stick with a regular gym bag.
In this article, I want to share everything I have learned about swim bags, especially from the perspective of a recreational swimmer who swims before work every morning.
In this blog I will share:
How do I choose a swim bag?
Are there swimmer-specific backpacks?
Do I really need a swim bag?
What should I pack in my swim bag?
Does my swim bag need to be waterproof?
How much do swim bags cost?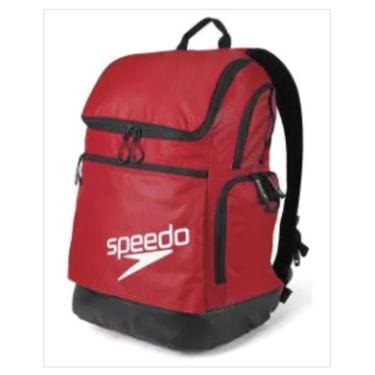 How Do I Choose A Swim Bag?
When choosing a swim bag, there are several factors you should keep in mind.
Since swim bags are not cheap, it is worth carefully considering the following aspects of your bag selection before choosing a swim bag.
What you should look for in a swim bag will differ from other swimmers, depending on your swimming habits.
1. Swim Bag Style – Backpack Or Duffel?
Generally, swim bags come in two styles:
1. The standard backpack style with two straps that you can wear on your back.
2. The duffel bag style, which is long and can wear on one shoulder.
Although the standard backpack style is more popular with competitive swimmers, as a recreational swimmer, I prefer the duffel bag style. The duffel bag style allows me to pack my bag carefully without everything being layered on top of each other.
For example, I swim before work in the morning, therefore I need a swim bag where I can store my work clothes. I want to be able to open my bag and see everything in a hurry and not have clothes hidden beneath towels and swim caps.
The duffel-style swim bag allows me to do this. I cannot find my exact duffel-style swim bag online to show you, but here is an image of a similar duffel-style swim bag from Speedo.
2. Material
The type of material used in the swim bag will determine its durability and how water-resistant the bag is.
Although it may not be completely necessary to have a swim bag made from waterproof material, it can help to keep water in your bag and keep water out.
Good materials for a swim bag include polyester with a combination of open weave mesh for external pockets to help the quick drying of gear.
3. Size
Although swimming bags are generally one size, there can be some variation between models or between manufacturers.
As the size of your towels and other gear you take to the pool is very personal, there is no one size to fit all.
It is best to check the size of the bag you are buying to ensure that it is big enough for your gear.
Alternatively, when it comes to swimming bags, many swimmers love a compact size, especially if they are just bringing the basics to the pool and don't have the need for a large swim bag.
4. Breathable Pockets
Breathable pockets are a great feature to watch out for when purchasing a swim bag.
These are mesh pockets in which you can store your wet swim cap and goggles so they can dry naturally.
From experience, I have learned that it is best to get breathable mesh pockets with zips. This helps to keep your expensive goggles that bit more secure.
Here is an example of an excellent swim bag from TYR with external breathable mesh pockets.
5. Wet Compartments
What really sets swim bags apart from regular gym bags is separate internal compartments to separate wet gear.
Not all swim bags have separate wet compartments, so if this is a priority for you, it is best to check that your chosen swim bag actually has this before purchase.
Alternatively, many swimming bags will include a wet bag you can use to store your wet swim wear.
If you are interested in learning more about wet bags for swimming, or just want to buy a separate wet bag for your wet swim wear, I recommend the KONUNUS Wet Bag.
To learn more about this specific wet bag and what you can fit in it, I have reviewed this wet bag in greater detail in this article, Konunus Swimsuit Wet Bag (Does it hold wet swim gear?)
6. Durability
Wet swimming gear can place a lot of wear and tear on a gym bag. Not only is wet swim gear heavy, but the wetness will also cause the material to degrade faster.
Therefore, it is important to ensure that your swim bag is durable enough to last a significant amount of time.
Most good swim bags, especially swim bags from leading brands such as Speedo, TYR and Arena are constructed from strong waterproof materials with durability in mind.
7. Easy To Clean
With sports gear that is wet, it is essential to be able to clean your swim bag. Any wet swimming item that is left in the darkness and warmth of a swim bag is a breeding ground for bacteria.
Even being able to wipe the inside of your swimming bag regularly with a clean cloth or some antibacterial wipes can help to keep your bag smelling fresh and looking like new.
Are There Swimmer Specific Backpacks?
Swim backpacks which are designed specifically for swimmers do exist with some of the best swimming brands such as Speedo, Arena and TYR producing some of the best swimming backpacks on the market.
These swim backpacks have lots of room for swimming gear, including towels and swim equipment.
What really sets swim backpacks apart from other regular gym bags is the separate compartments which are designed to separate wet swim gear from dry clothes.
Some swim bags even come with a separate wet bag to ensure your wet clothes and swim wear is stored in a way where they cannot leak pool water all over your dry clothes.
In addition, many swim bags will have mesh pockets. Although this might not look very secure as everyone can see your expensive goggles and swim cap, it does give a nice and airy area for your swim googles and swim cap to dry naturally in the air.
Do I Really Need A Swim Bag?
If you are a recreational swimmer who is unsure about purchasing a swim bag or thinks that swim bags are just too expensive, I have found a very cheap way that you can get all the benefits of a swim bag for a fraction of the cost.
One of the biggest advantages of a good swim bag is the separate compartments to store your wet swim suit.
If you want to continue using your regular gym bag, but want an effective way to store a wet swimsuit or togs, then I recommend you purchase a separate wet bag.
I currently use one of these for my wet swimsuit and it is an incredibly effective way of keeping your wet gear away from your dry clothes or leaking all over your gym bag.
These are the wet swim bags I have used and they only cost a couple of dollars, which is very cheap compared to the specialised swim bags.
Also, if you are looking for a way to carry your swim equipment to the pool deck, then the most effective way to do this is to purchase a separate swim mesh bag.
Many swim-specific bags do not provide a separate mesh bag, so you may still need to purchase this even if you invest in a proper swim bag.
A swim mesh bag is an affordable yet excellent way of carrying your swim equipment to the poolside, storing it as you swim and then storing it while it is wet as the holes in the mesh bag will allow your swim gear to dry naturally.
What Should I Pack In My Swim Bag?
Knowing what you should or need to pack in your swim bag (or someone else's swim bag) is essential to understand so you can be sure that you have enough space and can fit everything you need.
Here is a list of what you should pack in your swim bag that is universal to all swimmers, regardless of age and swim ability:
Swimsuit
Swim Cap
Swim Goggles
Towels
Shampoo
Shower Gel
Wallet / Swim Pass
Water Bottle
The list of following items are swimmer specific:
Hairbrush
Moisturiser
Sunscreen
Mobile Phone
Car Keys
The list of following items are swim equipment that you may need to pack:
Kickboard
Hand Paddles
Swim Fins
Pully Buoy
As you can see, swimmers can haul a lot of gear with them to the pool every morning. I am carrying most, if not all, of the above items. (Except for the sunscreen as I swim indoors at the moment).
In addition, if you are a morning swimmer who heads to the office or school after your swim, you may also need to pack cosmetics or clothes that are kept looking good without being squashed in your swim bag.
Does My Swim Bag Need To Be Waterproof?
It is unnecessary for your swim bag to be water proof however it will help if it is, as this will prevent your wet swim gear from soaking through the bag.
Fully waterproof swim bags can be very expensive, which is why many affordable swim bags have a waterproof base only.
A waterproof base can help to protect surfaces from your wet swim wear and prevent leakage, for example, leaving a wet spot on a car seat.
Personally, if you don't want or can't afford a 100% waterproof swim bag, then get a swim bag with a waterproof base and use a wet bag internally (such as the KONUNUS Wet Bag) to store your wet swim gear, is a great way to get water proof protection and store your wet swimsuit.
How Much Do Swim Bags Cost?
On average, swim bags can range in price from $20 to $90, depending on the brand, style and waterproof design.
As a general rule, swim bags from leading swimming brands from Speedo, TYR and Arena are well-made, durable, and reliable.
Final Thoughts
A swim bag is an essential piece of swim gear for any swimmer. The right swim bag can make life easier and managing wet swimwear less of a chore.
It is important to choose a swim bag that is right for your needs, whether that is one which is big enough for the whole family, compact enough for easy morning swims or durable enough to withstand the daily wear and tear of regular swimming.
Although a fully waterproof swim bag is a nice option, it is not completely necessary. As long as your swim bag has a waterproof base, you can protect your dry surroundings from coming into contact with your wet gear.
Using a wet bag to store your wet swim wear in addition to a swim bag is the best way to store and transport wet swim gear.
At the end of the day, a good swim bag will make your trips to the pool more organised, manageable and enjoyable.
Happy swimming!