When trying to learn about swimming in your backyard, you may have come across some common terms, such as "Swim Tether", "Endless Pool", and "Swim Spa".
Endless Pools and Swim Spas are two of the most popular backyard swimming options on the market. They are both great for swimming laps, doing water exercises, or just relaxing in. But what are the key differences between these two products? And can you just use a swim tether?
A swim spa is a small pool that comes in a variety of sizes. The built-in water jets create a current of water against which you swim, but they are also used as a spa with inbuilt seats. An endless pool is dedicated to swimming and has a patented swim current.
It can be overwhelming when you first look at swim spas, as there is a wide variety and choice. With swim spas, they are expensive, so it is important to do your research and get it right.
If you have a smaller budget, then perhaps a swimming tether and small above ground pool is all you need.
In this article, I am going to look at the pros and cons of a swim spa versus endless pool versus swim tether, including:
What exactly is a swim spa?
Can you use a swim spa as a pool for swimming?
What is an endless pool?
What is the difference between a swim spa & endless pool?
How does an endless pool work?
What is a swim tether?
Should I get a swim spa or an endless pool? (The pros and cons)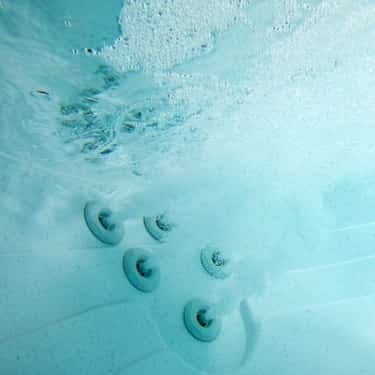 What Exactly Is A Swim Spa?
A Swim Spa combines the luxury massaging jets of a traditional small spa with the workout benefits of swimming laps in a large pool.
Typically, swim spars are made from fiberglass shells and come is a vast range of sizes. They could be narrow or wide to accommodate a group of people sitting and relaxing in them.
Traditionally, swim spas have the "hot tube" look.
Swim spas are similar to an Endless Pool in operational principle, but they are often larger or have more features, depending on the model.
Some of the key features of a swim spa include:
A built-in current that you can swim against
Hydrotherapy jets for massaging your body
A built-in stereo system so you can listen to music while you swim
LED lights for a fun and relaxing experience
As a general rule, swim spas can be a lot heavier than an endless pool and you may need some heavy duty equipment to install in your backyard.
If you can't make your mind up between an endless pool or a hot tub, then the swim spa might be for you, as you can get the best of both worlds.
Can You Use A Swim Spa As A Pool For Swimming?
Yes, you can use a swim spa as a pool. Swim spas are great for swimming laps and doing water exercises. They are large enough to accommodate multiple people, and they come with a built-in current that you can swim against.
Typically, the built-in current is engineered to be strong enough to swim against. As you try to swim against the stream of current against you, you will remain stationary as you match the force at which to swim to the strength of the current.
Here is a video showing how you can swim in a swim spa:
What Is An Endless Pool?
An Endless Pool is a swimming machine that allows you to swim in place. These pools are perfect for people who want to swim but don't have a lot of space, since they can be installed in smaller yards.
"Endless Pool" is actually a brand name, and these pools are made by the Endless Pool Company. [source]
Similar to swim spas, Endless Pools also come with a variety of features, such as resistance jets that let you customize your workout. At first, it can be confusing to tell the differences between an endless pool and a swim spa, but there are some key differences.
What Is The Difference Between A Swim Spa & Endless Pool?
Some of the key differences between a swim spa and an endless pool include:
1. Aesthetics
An endless pool looks more like a swimming pool, whereas a swim spa can often have the "hot tub" look.
2. Flow Current
What makes an endless pool unique is their patented swim current. Endless pools are designed with swimmers in mind, whereas a swim spa caters more towards relaxing and some swimming.
3. Fittings
An endless pool arrives in pieces and, according to the manufacturer, does not require heavy equipment to install. This can make endless pools suitable for smaller gardens.
On the other hand, swim spas can be heavy and require specialised installation, depending on the size of the swim spa.
How Does An Endless Pool Work?
The endless pool has a patent on its current and design.
By design, in an Endless Pool, the swim stream current is smooth and adjustable so you can swim faster or slower depending on your preferences.
Here is an awesome video showing exactly how an endless pool operates:
What Is A Swim Tether?
If you are looking for an endless pool or swim spa in order to swim in your backyard, before you spend thousands on a new swim spa, there is a third and more affordable option that might be worth considering and that is a swim tether.
A swim tether is a bungee cord that attaches to a swimmer and provides resistance to the swimmer's movement. Typically, one end of the bungee is attached to the pool wall or garden fence, while the other is attached to the swimmer's waist or legs.
I swim in my small backyard using a swim tether and small steel frame pool. For me this works well, but more importantly, the costs involved are significantly cheaper than purchasing a dedicated swim spa or endless pool.
I have covered in greater depth what it feels like to swim with a swim tether and how much it costs to setup an affordable backyard pool in the following articles:
Should I Get A Swim Spa Or An Endless Pool? (The Pros & Cons)
With the large investment involved with either a swim spa or an endless pool, it is important to do your research and ensure you are getting what you want.
The sales team at endless pools are really helpful and ensure to ask all the questions directly from the manufacturer when making your final choice.
Here are some pros and cons of both a swim spa and endless pool in summary:
Consideration
Endless Pool
Swim Spa
Cost
Endless pools can be more affordable than a swim spa, depending on the model.
✔️
❌
Installation
Endless pools claim easier installation with no expert knowledge required.
✔️
❌
Social
Swim spas are great for more social meetings as they typically have seating and work more like a hot tube
❌
✔️
Swimming Friendly
Endless pools are designed for swimmers, swim spas are still good, but they are not designed solely with the swimmer in mind.
✔️
❌
Size
Endless pools can be more efficient if your primary function is to swim as they are optimised for swimming.
✔️
❌
Running Costs
It is hard to say which option is better on running costs as it depends on the size of your model. Check with your manufacturer first.
–
–
Maintenance
All pools and swim spas need maintenance. Again, which model you choose will determine how much maintenance in involved from pool cleaning to changing filtration systems.
–
–
This table shoes the pro and cons of a swim spa versus an endless pool
In conclusion, your reasons for purchasing a backyard pool, the size of your yard space, and the limits of your budget will determine which choice is right for you.
Before purchase, ensure you double check you are happy with the following:
Can the unit be easily installed?
Do you need any concrete platform or base for mounting?
How much is the total cost, including installation?
How much weekly maintenance is involved?
How much does your unit cost to run per hour?
Is there any monthly hidden cost, such as additional consumables to purchase, such as chlorine?
Final Thoughts
Endless pools and swim spas are both great options for swimming, but there are some pros and cons to consider before making a purchase. Weigh the cost, installation, maintenance, and running costs against your needs to make the best decision for you.
Ensure you talk in depth with the manufacturer and talk about any hidden or monthly ongoing costs that might not be apparent in the price.
Before you spend thousands on either a swim spa or endless pool, be sure to consider a swim tether. For less than $500, you could be up and running with an above ground backyard pool compared to the many thousands of dollars needed for an endless pool.
Happy swimming!